9th July 2021
 Recording of the Week

,

  Wollny / Parisien / Lefebvre / Lillinger - XXXX
Drawn from eight live sets recorded at Berlin's intimate A-Train club over four nights in December 2019, XXXX documents a meeting of keyboard maverick Michael Wollny, soprano saxophonist Emile Parisien, bassist Tim Lefebvre, and percussion wizard Christian Lillinger. Agreeing beforehand to improvise everything from scratch (a fact which will either tantilise or sound the alarms) the best of the many hours of tape they recorded have been stitched together for this 45-minute album, and for all of its abstraction it makes for a surprisingly coherent work. With the longest track running to just 6 minutes nothing outstays its welcome, and the abiding impression one gets is of musicians having tremendous fun throwing some seriously odd shapes.
Michael Wollny is best known as a forward-thinking pianist, leading a successful trio alongside Lefebrve (a key partner in Wollny's music for over ten years), as well as numerous ad hoc projects. You would be hard-pressed to find a more marked contrast between this current project and last year's impressionistic Mondekind, a solo piano recital interpreting music by Alban Berg, Hindemith, Sufjan Stevens, and Tori Amos, alongside Wollny's own compositions. On XXXX Wollny keeps things strictly electric, cooking up all manner of novel sounds and textures on his keyboards, which are then often put through further effects, but never to the point of obscuring the nuance in his playing. Even when he's feeding his synth through atonal ring modulation effects his rhythms retain their agility, sometimes sounding like an extension of Lillinger's kit, as on 'Doppler FX'. Lillinger plays a combination of acoustic and electronic drums, frequently combining the two for some delightfully incongruous effects like the 8-bit snare drum that stands out like a sore thumb on 'Dick Laurent is Dead'. Parisien's clean saxophone lines keep a toe-hold in the jazz tradition, standing out as a more human figure amongst the controlled chaos of the electronics, which makes it all the more disturbing on the odd occasions that effects like pitch-shifter are added to him.
Given that the cover is a diagram of the molecular structure of psilocybin, the compound found in 'magic' mushrooms, and the opening track 'Somewhere Around Barstow' is a quote from Hunter S Thompson's Fear and Loathing in Las Vegas, it's no surprise that the effect of the music is rather hallucinatory. Sonically it sounds like a studio creation, so it's all the more remarkable that it was cut live with minimal post-production. At times they remind me of early Supersilent, or Ståle Storløkken's Humcrush duo with Thomas Strønen, but with a tighter, more focused approach. The minimal, motorik methods of Krautrock bands like Neu! and Can have frequently influenced Wollny's music in the past, and on 'Too Bright in Here' things kick off in Tangerine Dream mode, which has a sequenced synth flute cycling around pleasantly (and do I detect an ironic nod to Balearic trance here?), whilst Parisien's sax soars above. A few minutes in Lefebvre shifts the focus with a rising bass figure, as Wollny adds a slightly hammy (in a good way) harpsichord motif as if we've slipped into the opening titles sequence of a seventies Dario Argento horror film. Wollny's beatless 'Nostalgia for the Light' is a fitting epilogue to the set, sounding like Messiaen performed on a Fairlight by some 1980s New Age hippie.
XXXX managed to keep my attention throughout, which is no mean feat for purely improvised music, and I found it actively engaged my imagination in a way I haven't experienced for quite some time. Just occasionally the gadget obsession gets the better of the boys, as on the brief 'Grandmother's Hammer', which features some rather dated glitch effects. But at its considerable best XXXX offers some of the trippiest, most purely enjoyable electro-acoustic improv currently out there.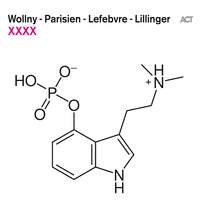 Wollny / Parisien / Lefebvre / Lillinger
Available Formats: CD, MP3, FLAC