22nd December 2020
 Interview

,

  Per Oddvar Johansen on the power of the trio and finding inspiration in isolation
Norwegian drummer Per Oddvar Johansen is normally quite a busy man. With much of his schedule taken up with sideman gigs, this year has proven quite different for him. Following the release of his latest album as bandleader The Quiet Cormorant - one of our Presto Award winners this year - I sat down with him to discuss his compositional approach, his love of the trio dynamic, and hopeful plans for the future.
First of all, congratulations on your Presto Award! We were big fans of The Quiet Cormorant here at Presto Jazz. How has the response to the album been overall?
It's been very nice, we've got some good reviews from - what's left of - music publications here in Norway, and we've had some online reviews which were very kind. The album was released on March 20th, and Norway shut down on the 12th, so the timing was quite bad. We haven't been on tour yet - we've had just one release concert that was very 'COVID-19 aware', people sitting meters apart and all those strange things. Hopefully we'll manage to get a tour together next year and get the record more out there.
I suppose you'd normally be touring just right after the release?
Yeah, it was a bit of a quiet release. I think people like it, though, and I've had a lot of good feedback about the record from different places.
In terms of your writing process, the promotional material for The Quiet Cormorant mentions that you wrote a lot of it on the northern coast of Norway in isolation. Does the geography of where you write your music often inspire you?
I'm very fond of nature, of course, but normally I just write music at home. There were two locations I wrote the album, actually; one was in Berlin with a composers' union I'm a part of. They have a flat there that you can stay at, and I wrote some music there. Then I got that residency in northern Norway, which is a fantastic place. When I got there, I wrote a lot of different music, and in fact most of the record was written there. Of course, a lot of it has to do with the inspiration you get from being alone, that's one thing, and also the monumentally beautiful nature that's up there. It's part of an archipelago, many small islands, way out in the sea near Bod. I don't know how many people live on that small island, maybe four or so, but I only saw two different people the whole week.
You worked with the same lineup on this album as with Let's Dance (2016), your last album as bandleader. Was it a deliberate choice to work with the same collaborators?
Since I'm a musician who plays a lot as a sideman, the trio is kind of a 'side project' in a way. The idea was not that we'd be a trio who would go touring the whole year and make a lot of money, it's more a place where I can have the opportunity to play some music I have written. It's very interesting playing music that's all written by me, for a guy who's used to sitting on the drums and playing other people's music. Hopefully the trio will be ongoing for some time, and maybe we'll do another record - I'm a huge fan of records, I'm from the "LP era".
The first trio album, Let's Dance, was kind of a coincidence because I was planning on making a solo album, but I wanted to have the sound of a piano, saxophone and drums; so I asked [Helge Lien and Torben Snekkestad], whom I'd worked with in other settings, and we just went to the studio and tried to make some recordings. The original idea was to have maybe one or two songs, but as the old saying goes "everything was so great", so we had to include everything! The album became quite different from the original intention - all of a sudden it was a trio album with only a couple of solo pieces. This time, I really wanted to make an album which was supposed to be an album for this trio.
You also worked with Hedvig Mollestad on a couple of tracks. Were they written with her in mind?
The tune 'Brown House (By the Sea)' was written with her in mind. I wanted her to be soloing like she was flying above the whole song. She was in the studio recording with us for that song, and we had this one piece 'Love, Peace and Currywurst', which is a strange name for a very strange song. I didn't really know how to do that song because it's a very weird idea, but we thought "well, let's try with Hedvig on that as well!". She just explodes all over the tune and it's very nice; it was a coincidence she was still available and that we had time to do it while she was still there. There was only one take for that tune - it's such a strange tune that it had to be kind of spontaneous, I think.
There's a few tracks on your solo albums that use sounds outside of what's normally associated with "jazz"; the tracks with Hedvig on The Quiet Cormorant are perhaps more rock-inspired, and 'Uluru' from Let's Dance has a kind of bluegrass feel to it. Is using sounds from outside the genre a conscious part of your process?
I would say that I don't think genre is important, nor the 'law', because I grew up with every kind of music. I'm not from a 'musician family' or an 'artist family'. I listened to all this rock music, country & western and classical music, and jazz became part of my life at a later stage when I was about 20 or so and starting to explore the drums more. There was this old notion that if you want to be good at something, you have to learn jazz - which was quite a misconception in hindsight, but I started looking into jazz and obviously got quite hooked on it. I don't think genre really means anything: it's that old saying from Duke Ellington, "there are two kinds of music. Good music, and the other kind." I recorded ['Uluru'] in my garden with an acoustic guitar, and I used the sound of myself chopping wood for the rhythm. For me, it's more a question of what is needed at any given time for the music, so if it's some kind of bluegrass thing, then that's what I have to do.
It's interesting to hear that you play a lot of other instruments - of course drumkit is an unpitched instrument so you wouldn't be able to write with it. Do you often start from another instrument and build from there?
I normally write a lot on piano. I'm not a very skilled piano player, so I cannot play the songs I write most of the time, but I can play it slowly or manage to play it just so I can record it and construct it from there. There have been many times I've just been improvising on piano and cut together a recording of it, composing it that way. I don't write on drums, because as you say it's not a pitched instrument, but I may have an idea of a groove; 'Brown House', actually, is an idea that came from a specific mood and a specific groove. It's so different from piece to piece; I'm not a very systematic composer, I don't sit down and work until it's finished, I just write when I get an idea and try to record it or write it down on paper. The most difficult thing is getting it down before it disappears again, as they are often very vague ideas.
So if you're writing something for your trio, and you gave a piano part you'd written to Helge Lien, for instance, how much would that change?
It depends a lot on the piece. I tend to write very long sheets with many bars, but not necessarily much information on them. As [my bandmates] are great improvisational musicians, they will fill in the blanks, playing the chords and phrasing the melodies much nicer than I can, helping create the musicality of the piece. For me that's the interesting part, not the actual writing of the music.
For example, the first piece on the album ['The Quiet Cormorant'] is very open: it's basically an improvisation where Torben [Snekkestad] plays very subtly, while Helge plays very freely on the piano. I had written some chords that I play on the vibraphone, so the whole piece is those chords played on the piano while the saxophone plays some shadows around it. There's very little written information other than the chords; in a way it's not really my composition, but it also is my composition because of those chords that everyone is thinking about while playing. We also have times where we just play the music through, like 'Waltz for Hire', so it depends on the mood and what the piece needs.
So you leave a lot to interpretation then? I guess you can't really do that when you're writing alone.
No, that's not easy to do on your own because I'm not a skilled improviser on all these instruments.
You can't be playing three instruments at once either!
No, that wouldn't work! I do think that the trio is a very nice format for doing this kind of 'open' music. If you are performing solo, everything depends on you - it's a nice challenge, but the music itself can be a bit narrow… I'm trying not to say it's 'boring', but sometimes it is! When there's two of you it's very nice because you have someone to interact with and exchange ideas, then with a third person you get even more unexpectedness, it changes the dynamics in how you improvise, and it's more interesting. Two is easier to work with than three, of course, then when you have a quartet it starts to be more tied up, in a sense. The more people you add, the more difficult it is to play loosely, and because when you improvise it's very normal to play a little 'too much', the more people you add the more 'too much' you get. That's why there are so many piano trios, I think, and trios in improvised music in general. Once you are a quartet it gets a little more difficult, but then Ornette Coleman solved that by not having a piano player, which makes it more open again, and of course the quartet is a very classic format. It was a very deliberate choice for us not to have a bass player, because the bass is the 'ground-maker', and when it's not there the music gravitates differently when you don't have it underneath, you have a lot more possibilities for playing freely. So the lineup was a very deliberate choice, because I didn't want it to sound like a quartet!
You mentioned in our initial correspondence that you've got some new things you're working on for next year with some other musicians, virus-dependent of course.
Yes, it's all very pandemic-dependent. We have so many gigs that are being moved back for the third time, now. Everything is very unknown, even all the way to next Fall. The project I was talking about is one I'm doing with Juni Dahr, a Norwegian actor, and a saxophone player called Tore Brunborg. The thing that makes it so exciting is that it takes place outside, and we utilise the nature of the place we are playing; we play a very space-specific piece that we'll be creating in a northern part of Norway, which is actually in the southernmost area of the Arctic, in Svalbard. We'll be writing music together and Juni will be reading some poetry and historical texts. Hopefully, if everything goes well with the pandemic we will have our first performance next year in July, and then our big premiere in 2022.
I've also got some more 'normal' things lined up, going on tour with different bands - or at least planning to. I'm also working on a new solo album, as a natural result of the isolation caused by the pandemic. I've recorded some things alone for piano and drums, and am putting together a very 'lo-fi' release for Bandcamp or something.
It sounds like you've been keeping busy, all things considered.
I know people who have had a lot fewer gigs than me - fortunately for me, because I play with a lot of different people I still have something to do, it's like a normal rubbish year! I've still had some gigs here and there, but of course much less than it was supposed to be. The weirdest thing is that I haven't been abroad since February, when we played in India. At the moment we're focusing more on travelling Norway for the first part of next year, I'm not planning anything outside of the country until September, but let's hope everything else works out.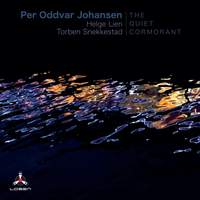 Available Formats: CD, MP3, FLAC, Hi-Res FLAC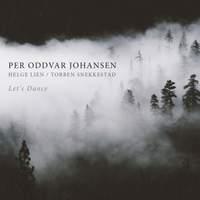 Available Formats: CD, MP3, FLAC