10th December 2020
 Classic Recordings

,

  Billie Holiday - Lady in Satin
Billie Holiday didn't have the easiest of upbringings. Born to a teenage couple in Philadelphia in 1915, her mother forced out of her house for falling pregnant and her (not confirmed) father left them both to pursue a career in jazz banjo playing. She would frequently skip school and eventually landed in juvenile court at only age nine, eventually dropping out of school altogether at age eleven. While working a job as a cleaner in a brothel, she would eventually come across the music of Louis Armstrong and Bessie Smith, citing Armstrong's recording of 'West End Blues' as a particular favourite, especially the scat vocal-clarinet duet. After a difficult childhood, she began taking gigs singing in Harlem nightclubs, her stage name taken from the actress Billie Dove and an altered spelling of her father's surname 'Halliday', teaming up with her neighbour Kenneth Hollan for a handful of duo gigs. It was through this appreciation of instrumental players that she found her unique style of phrasing and love of improvisation. Despite having no professional training and being unable to read music, later in life she would land a gig as the vocalist for Count Basie's big band, eventually forming a friendship with fellow contemporary singer Ella Fitzgerald after the two found themselves in direct competition.
One of Holiday's big breaks came after her success with the tune 'Strange Fruit', performing it at a nightclub in Greenwich Village despite her apprehension, fearing a negative audience reaction. It was a deeply personal song for Holiday, reminding her of her father's death, and she would have to go to Commodore Records to record it in 1939, her usual label Columbia fearful the subject matter was too sensitive for their catalogue. Ultimately, 'Strange Fruit' would remain in her repertoire for the rest of her career, gaining her a new popularity. By the time we get to Lady in Satin, Holiday was very much in her twilight years; she would sadly pass away the following year from cirrhosis of the liver, and this would be her last recorded album. Years of drug and alcohol addiction had also affected her voice, with contemporary critics noting its fragility and roughness. In hindsight, of course, Holiday's brilliant performance on this album is rightfully acknowledged, but at the time she was very much considered a singer past her prime. Session conductor Ray Ellis, however, was keen on the 'edge' that this brought, complimenting its 'evil' and 'sultry' sound. Right from the beginning of 'I'm a Fool to Love You', her deeper and husky voice immediately lends the record a unique sound, almost contemplative in tone.
Holiday was keen to work with Ellis after hearing his work on Ellis in Wonderland, although her original preference would have been Nelson Riddle, based on his arrangements on Frank Sinatra's In the Wee Small Hours - the two albums even share some tunes like 'Glad to Be Unhappy' and 'I Get Along Without You Very Well'. Ellis used a forty-piece orchestra, including a three-part choir; the instrumentals across Lady in Satin are lush and dense, beautifully orchestrated - it's also the reason why this album would be Holiday's most expensive project by far (although Columbia would provide seemingly endless funding for it). Ellis's expansive orchestra contrasts so nicely against Holiday's aged and tattered voice, and very much works to the album's benefit. Holiday's voice retains her 'instrumental' delivery, with her unique phrasing and even bending up single-syllable words. Ellis would apparently not realise the power behind Holiday's performances until after hearing the master tapes, initially feeling some trepidation over the sound of her voice, but after seeing Holiday's emotional reaction to the playback of 'I'm a Fool to Want You', he had a newfound appreciation for the sound. Holiday picked out the repertoire for Lady in Satin purely based on its lyrical content - she was unable to read music, as aforementioned - deliberately choosing the most personally significant tunes, ones she'd never sung before. Lady in Satin is a gloomy record, in many respects. It captures an esteemed vocalist unknowingly at the end of her career with a gentle, heartfelt and ultimately raw swansong. In the end, it's some of the most personal work of her twenty-six year career.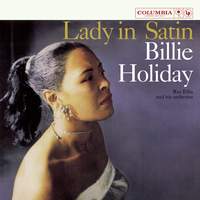 Available Formats: MP3, FLAC, Hi-Res FLAC