11th December 2020
 Recording of the Week

,

  Matthew Tavares & Leland Whitty - January 12th
Multi-instrumentalist Matthew Tavares and saxophonist Leland Whitty have been collaborating together in some form for almost a decade now. Both members have history as members of Canadian nu-jazz outfit BADBADNOTGOOD, with Whitty appearing occasionally on earlier releases before joining the band full-time on their fourth full-length album, and Tavares being a founding member who has since left the group. Reunited again for their second recording of 2020, January 12th follows their full-length Visions from back in April. January 12th was recorded earlier this year, a live improvisatory set at Burdock Piano Fest in Toronto, apparently leaving the folks at Mr Bongo records in Brighton 'blown away' after hearing. If you're into BADBADNOTGOOD for their forward-thinking, hip-hop and electronica-infused take on jazz, Whitty and Tavares' work is notably more traditional in its sound this time around.
The former BBNG bandmates are joined onstage by bassist Julian Anderson-Bowes and drummer Matt Chalmers; it's this very same quartet that appear on the aforementioned Visions, and would have been part of the tour to promote the new album. For obvious reasons this tour didn't go ahead. The album opens with the half-hour behemoth '10,000 Roses', transitioning from Tavares' sprinkling piano chords into a fast-paced improvisation from Whitty. Within the half-hour playtime there are plenty of peaks and crescendos, the dynamism of the quartet really excelling here. For an improvised set, it sounds extremely well-rehearsed, and if it wasn't for the occasional crowd cheering or slight room noise, one might be fooled into believing this was a studio recording. 'Chandelier' sees Tavares swap onto electric guitar for a moody neo-soul-induced passage, distorted for a little bit of edge as the tune lumbers on its own uneasy tempo. The band eventually rockets up to a climax, much to the delight of the evening's audience.
While their names aren't on the bill, the rhythm section forms a properly solid backbone, making just enough of their presence known to keep the tunes chugging along while leaving ample space for Tavares and Whitty to play. Bowes' bass spot on 'Forever' gives him a moment in the spotlight to shine, while Chalmers' fluid playing is felt throughout the set. Of course, the duo themselves make some great contributions to the tunes too; Whitty's phrasing is the best it's ever been - smooth, lyrical and gentle - the opening of 'Cloud Dance' sees him swooping and diving through notes over Tavares' accompaniment. Tavares on the other hand has always excelled in his fluent choice of notes and innate facility for harmonic painting, the perfect companion to BBNG's (and this project's) emphasis on 'vibes', while his sludgy guitar on 'Chandelier' shows his more alternative side.
It's interesting to hear the lads from BBNG playing it a little more straight than on their project's albums, which often feature heavy usage of hip-hop beats, as well as guest vocalists or synthesisers. Both of their albums from this year - Visions and January 12th prove that the two are equally capable of hanging with the more old-school sounds as well, and can do it pretty damn well too.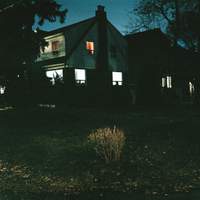 Matthew Tavares & Leland Whitty
Available Format: Vinyl Record