4th September 2020
 Classic Album Review

,

  Lester Young and the Kansas City Six
Lester Young cut something of an eccentric figure on the jazz scene of the late 1930s, a time when there was no shortage of oddball personalities. From his love of porkpie hats to the skewed way that he held his horn, right down to using his own self-invented form of slang, Young epitomised the 'hepcat' or 'hipster' before the term was even coined. Eighty years on from his heyday though, and despite his peak lasting barely more than fifteen years, it's his contribution to tenor sax that continues to leave the deepest impression. Young bridged the gap between the older generation of swing saxophonists and fast-approaching modernism of bebop in the forties, and it's no coincidence he was an idol to Charlie Parker. Where a saxophone giant such as Coleman Hawkins had a rather serious and heavy approach to the tenor sax, Young brought a newfound sensuality to the instrument, along with an altogether lighter tone. Some of his finest early recordings were accompanying his great friend Billie Holiday, who also passed away, far too young in 1959, just months after Young (they also gave each other their famous nicknames; Lady Day and Prez). Young shared Holiday's carefree approach to the shaping of melody, and the 1936 recording of 'Without Your Love' encapsulates the synergy they achieved. Whilst Young's solo is dispatched quickly at the start of the tune, the real interest is how his lines coolly shadow her vocals, like a running commentary on the emotion in the words.
The Kansas City Five (becoming the Kansas City Six when Young was included) was an off-shoot from the Count Basie band, masterminded by composer, arranger, guitarist and trombonist Eddie Durham as a way of making a more delicate kind of swing music with sparser instrumentation than was possible with a full big band. The 1938 lineup (the first five tracks on this collection) formed around Basie's rhythm section of guitarist Freddie Green, bassist Walter Page, and drummer Jo Jones, with the addition of the brilliant trumpeter Buck Clayton, and Durham (the sessions are notable for Durham's innovative use of electric guitar, predating Charlie Christian's first recording by several years), with Young playing tenor and also providing a rare glimpse of his equally charming facility for clarinet. What's immediately noticeable is just how relaxed and amiable the 1938 session is; by removing the pressure to entertain a full ballroom the group played with a transparency that predicted the 'cool' school of Miles Davis, Chet Baker and Gerry Mulligan that would emerge at the tail end of the forties.
The interplay between all members, and especially the two horns of Clayton and Young, is consistently top-notch, as can be heard on 'Way Down Yonder in New Orleans', which is bookended with Young on clarinet before he switches to tenor for a dialogue with Clayton's muted trumpet. To my ears the overall air of geniality achieved on this track is a highwater mark in jazz, with Freddie Green's chipper rhythm guitar, Page's happy-go-lucky basslines and Jones's swinging drums the lynchpin holding it all together. These recordings abound with little treasures: Young's lithe clarinet solo on 'I Want a Little Girl' (the lyrics to the song it's based on aren't as creepy as the title sounds!) has a similar Dry Martini nonchalance that Paul Desmond would make his trademark in the fifties, Durham's electric guitar refrain that gets things swinging on 'Countless Blues'; and the heavier R'n'B reffing of 'I Got Rhythm'.
This set collects together all four of the Kansas City sessions that Young participated in, and there isn't a weak moment throughout. Highlights include 'Dickie's Dream' from the 1939 session, with Basie's typically sparse piano, along with fruity trombone interjections from Dickie Wells, and 'Jo-Jo' from the 1944 session, where Young seems to be taking integrating some Charlie Parker-isms into his remarkable bag of tricks. Also included is the Kansas City Six set from John Hammond's 1939 'From Spirituals To Swing' presentation at Carnegie Hall.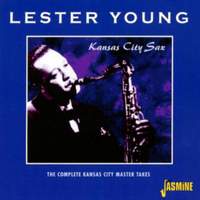 The Kansas City Recordings are available in various incarnations, but this Jasmine collection conveniently groups his work with the group together on one disc.
Available Format: CD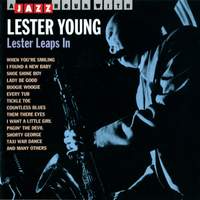 At present there doesn't appear to be a complete collection of Young with the Kansas City groups, but this collection includes all five tracks from the 1938 session, as well as bits from the later ones.
Available Formats: MP3, FLAC