4th September 2020
 Recording of the Week

,

  Nubya Garcia - Source
The term 'rising star' gets thrown around a lot in modern jazz music, a title granted to seemingly any young player amassing popularity for the week. However, for UK-based saxophonist, composer and bandleader Nubya Garcia, her rise to prominence on the UK jazz circuit has been meteoric. With a couple of EPs behind her, as well as featuring on the London jazz compilation album We Out Here and on Sons of Kemet's album Your Queen is a Reptile in 2018, it's been a long build-up to her debut record, Source. Naturally cultivating an interest in music from a young age, Garcia recalls learning the basics with a broken clarinet she found at home, in between school piano and violin lessons, eventually gaining an interest in jazz players like Charlie Parker and Sonny Rollins in her teenage years. Working her way up playing gigs around her native Camden, she's risen from an underdog to one of the more well-known names on the scene. Garcia was even one of the few live performers at Glastonbury 2020, playing a stripped-down version of her lead single 'Pace' to a campfire-lit field of camera crew and cows.
Described by the saxophonist as a record about "personal power", Source - as its name implies - sees Garcia exploring her heritage, albeit recontextualised for the modern world. Besides her appreciation for the lineage of jazz saxophonists, Garcia's musical roots take her back to exploring her parents' musical interests - particularly the music of her mother's native Guyana. Garcia's approach is a little more conventional than her contemporaries on the London scene; while a group like Melt Yourself Down's schtick could often be boiled down to their punkish aggression, or Shabaka & The Ancestors' spiritual approach, Garcia's style is slightly less overt about its outside influences. With that being said, the title track 'Source' - which showcases Nubya's melodic styles with extended saxophone jamming - has a clear dub influence, while also featuring a trio of vocalists contributing some heavily reverberated chants.
The opener 'Pace' is an excellent mood-setter for the album. No doubt informed by the hectic London life the Camden resident is likely used to, the tune ebbs and flows between its mellow build-up to a climax with pianist Joe Arman-Jones's barrage of notes, before it effortlessly closes where it started. Much of the album's great tunes are only helped further by her contributors, particularly rhythmically; drummer Sam Jones's breakbeat-reminiscent playing on 'The Message Continues' drives the tune with huge energy, while his chaotic percussion during the climax of the aforementioned 'Pace' only heightens it. Another stand-out rhythmic tune is 'Inner Game', which sees Jones locking in with bassist Daniel Casimir with amazing precision. Garcia never tries to play over the rest of her band; as much as one can with a self-penned record, she finds her place in the arrangement and allows her bandmates to find theirs, careful not to disrupt the harmony of the core quartet. Garcia worked closely with producer Kwes - of Bobby Womack and Solange fame - to put the record together, and the attention to detail really shows; clear and precise when it needs to be, while the rhythmic elements are punchy and hard-hitting.
I remember foolishly passing up the opportunity to see Nubya Garcia in a tiny Birmingham club back in 2019. In our post-pandemic world where gigs are still scarce, it stings all the more that I didn't get to see this young saxophonist before her sudden rise to prominence. Her high praise from scene heavyweights like Shabaka Hutchings and Theon Cross is well-deserved; she's a great player with a voice of her own, and while she definitely shows traces of the scene she came up in, there's always more to Garcia's music. I can only anxiously await what she does next.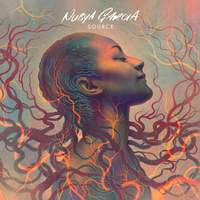 Available Formats: CD, MP3, FLAC, Hi-Res FLAC