7th August 2020
 Classic Recordings

,

  Paul Motian Trio - It Should've Happened a Long Time Ago
For something a little more modern (at least comparatively so) for this week's classic album review, we're talking It Should've Happened a Long Time Ago, the mid-80's classic by the late, great Paul Motian on ECM. A musician from a young age and a drummer from the age of twelve, Motian joined Bill Evans's iconic trio after a brief stint with Thelonious Monk in the early 50s. After cutting his teeth in Evans's band - you can hear him on acclaimed Evans classics like Portrait in Jazz and Sunday at the Village Vanguard - and was a key figure in codifying the 'ECM jazz sound': forward-thinking sounds coupled with his roots in cool jazz. Continuing to record primarily with ECM throughout the 80s through to early 2000s, Motian's affinity for guitarists rather than pianists found him often collaborating with electric guitar legend Bill Frisell, while the other key member throughout his many quintet records was saxophonist Joe Lovano. Motian was a big fan of using both saxophone and electric guitar in his groups - even going on to form his Electric Bebop Band in the early 90s to feature a variety of young saxophonists and guitarists, giving platforms to young sax players like Joshua Redman and Chris Potter, and guitarists Kurt Rosenwinkel and Jakob Bro, just to name a few.
It Should've Happened a Long Time Ago finds us in 1985, where after a string of quintet albums, Motian took Frisell and Lovano, arguably the two key sidemen in Motian's quintet, into the studio to record a trio album. Though not Motian's first recording leading a trio, it was his first with Lovano and Frisell since they first appeared on his recordings with 1982's Psalm. With all three being bandleaders and composers themselves, Lovano being the 'newest' to his bandleader role, the trio doubtlessly had plenty of confidence in their own playing, but manage not to play over or seemingly try to outdo each other while interpreting Motian's tunes.
The record opens with its title track, a sombre nocturnal piece evocative of the twilight skyline on the sleeve, with Lovano's saxophone carrying the tune on top of Frisell's little harmonic embellishments and ringing chords. It's a moody tune that sets the scene for much of the rest of the record. The tune itself obviously stuck with Frisell, too, as it would later make its way onto his 2016 record with Thomas Morgan Small Town in a minimal guitar and bass arrangement. As aforementioned, Motian's fondness for Frisell saw him taking a 'piano-like' role in the trio - even on Motian's quintet records he would use Frisell as the "chord instrument" - with Frisell's tendency to let as many notes sustain at once filling out the space, and he really gets his chance to shine on the later tune 'Introduction' with some classic low-key Frisell ambience. Lovano's dark tone suits the tunes well, while also bringing an aggression to tracks like the more chaotic 'Fiasco'. It's on this track and others, too, that Frisell taps into his weirder side - which would later emerge during his tenure with John Zorn's Naked City - and brings us some angular synth-guitar shredding. The trio enter modal territory on the appropriately titled 'India', with Lovano and Frisell's improvisations dwelling on a single pedal tone, much like the traditional music of the region.
While many of Motian's records are arguably equally as deserving of classic status, It Should've Happened a Long Time Ago's greatness comes from its condensing of Motian's quintet to its key components, allowing for Motian, Frisell and Lovano a space for more intimate conversations and unhindered experimentation. In Lovano's own words, It Should've Happened… was "a springboard for the next 28 years for Paul, Frisell and myself", as the trio would tour this and other trio material extensively as a result of this record. While Motian's compositions are brilliant, part of the appeal is of course the musicians playing them, now knowing the trajectories their careers would take, with It Should've Happened a Long Time Ago the beginning of that.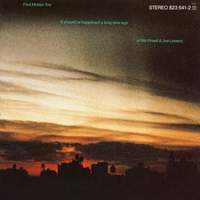 It Should've Happened a Long Time Ago is conveniently available in both MP3 and high-quality FLAC formats.
Available Formats: MP3, FLAC