US deliveries: Unfortunately we are receiving reports that some US orders are taking longer than usual to arrive. Find out more >>
Latest update: Changes to international postage charges. Find out more
27th July 2020
 Classic Album Review

,

  Ella Fitzgerald Sings the Cole Porter Song Book
At this point, the legacy and influence of Ella Fitzgerald is hardly a secret; finding success as a guest vocalist, she made her name singing with the Chick Webb Orchestra until the early 1940s. However, like many great vocalists of early jazz music, many of her recordings were spread across many 78 RPM singles, some of which she would even go uncredited for. Until her years with Decca Records in the mid-1930s, very few comprehensive collections of her music were actually in circulation. It wasn't until she found a new manager in Norman Granz, soon to be founder of Verve Records, that she became a prolific recording artist. Fitzgerald was performing as a vocalist in bebop groups, most notably Dizzy Gillespie's band, up until she left Decca. Yet the old-school style had begun to grow stale for her, and as her new manager envisioned her in more ambitious studio projects, what followed would be a record which the singer would recall as a turning point in her life. Granz, in fact, seemingly created Verve Records with Fitzgerald in mind, and ultimately Ella Fitzgerald Sings the Cole Porter Song Book became the first release for the label.
Verve's decision to make this selection of well-established popular songs the first release of their catalogue was a calculated one; Granz wanted to expand Fitzgerald's appeal beyond the niche jazz circles with a decidedly 'un-jazzlike' project, envisioning her covering numerous composers across multiple recordings. She would eventually produce eight of these 'Song Book' releases, covering the likes of Duke Ellington, and the Gershwin brothers, among others, on what would ultimately be some of her most enduring work. Granz had supposedly long-awaited the opportunity to make a record like this with Fitzgerald, and when the change came around it certainly seems like he made the most of it.
While there are touches of Fitzgerald's jazz background in some of the arrangements, The Cole Porter Song Book mostly employs the lush big-band arrangements of its studio orchestra, with Fitzgerald's vocals clear and crisp at the top, balanced neatly against the dense accompaniment. Fitzgerald's charismatic performances make for some fittingly playful interpretations of Porter's sometimes snarky lyrics, as well as the wide selection of flavours from Porter's works - from popular tunes like 'Let's Do It', 'Anything Goes' or 'I Get a Kick Out of You' to some of his show tunes like 'Always True to You in My Fashion' and 'Too Darn Hot' from Kiss Me, Kate. While Granz, also the producer on the record, certainly gets plenty of mileage out of his studio orchestra, we do find some tributes to Fitzgerald's past in jazz with some of the more bare, low-key arrangements on tracks like 'Miss Otis Regrets' and 'I Get a Kick Out of You', featuring a smaller piano-led ensemble contrasting with the large brassy backing of most of the album.
It can be hard to know where to start with these prolific jazz vocalists, but as a cohesive and quality recording, you can do no better than The Cole Porter Song Book, which serves not only as an extensive introduction to one of the most popular composers of the Great American Songbook, but also a showcase of one of the most well-known American singers at an inspired point in her career. She would eventually re-visit her love of Porter's songs on the 1972 record Ella Loves Cole, which would include some new versions of songs appearing on The Cole Porter Song Book as well as a few new additions. While any of her 'Song Book' recordings are worth your time, her Cole Porter edition holds historical significance in both the beginning of a now legendary jazz label and the start of a new era in Fitzgerald's career.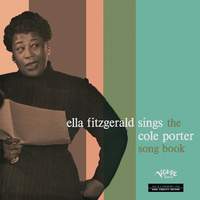 The Cole Porter Song Book is available in a tantalisingly good value CD set, or as a digital download.
Available Formats: 2 CDs, MP3, FLAC