US Airmail Charges: As a knock-on effect of COVID-19 airfreight prices around the world have soared. Reluctantly, we have had to pass on some of this increase in our standard airmail prices. We'll bring them down again as soon as we can!
6th March 2020
 Classic Album Review

,

  McCoy Tyner - The Real McCoy
I started writing this article last week, chosen purely as an album I have enjoyed down the years, so it was sad to read of McCoy Tyner's passing on Friday 6th March, 2020, at the age of 81, just shortly after posting this review. I hope this is a fitting tribute.
McCoy Tyner was one on the giants of jazz, a brilliant improviser who sounded like no one else, and an innovative composer who sailed his own course. As a key member of the classic John Coltrane Quartet (alongside drummer Elvin Jones and bassist Jimmy Garrison) he redefined the role of the piano in a group context from 1961-1965, in a period when the chordal nature of the instrument was out of favour with the free players at the turn of the decade, Tyner helped to make the transition from bop into what would be termed modern jazz. At the group's peak, on albums such as Love Supreme, Crescent, and even as late as Sun Ship, the last session the quartet recorded, Tyner's unique modal style was the harmonic heart of Coltrane's music. Tyner developed a way of playing sequences of unresolved, open chords (often based on fourths), whereby the tension is seemingly ratcheted up with each progression, always leaning towards a resolution that never quite arrives as the ear would expect. More often than not the release would come via a giddying stream of right-hand notes, or maximising the tension for Coltrane to step into the fray. Tyner offered Coltrane the ideal base for his epic solos, which were always about pushing towards and maintaining a moment of transcendence. It can be argued that no other pianist of the sixties was so influential on following generations, and The Real McCoy, recorded for Blue Note in 1967, is the definitive statement of Tyner's ability as both performer and composer in his own right, and the ideal starting point from which to explore the many fine albums in his catalogue.
Coltrane's music increasingly embraced the avant-garde in the mid-sixties, expanding the core group to include his protégé, Pharoah Sanders, and the free-jazz drummer Rashied Ali. The music became too chaotic for Tyner and Jones, as the pianist described in interview when recalling the period: 'I didn't see myself making any contribution to that music... All I could hear was a lot of noise. I didn't have any feeling for the music, and when I don't have feelings, I don't play'. The Real McCoy almost feels like an album Tyner would have made with Coltrane in a parallel universe where he had been the leader. Passion Dance, possibly Tyner's most famous composition, opens the album with a big, juicy tune, a jubilant affirmation of the power of jazz to raise the spirits. Producer Alfred Lion fondly remembered the session as being 'pure jazz' with 'no concession to commercialism, and a deep, passionate love for the music embedded in each of the selections'. Tyner's lead solo bursts out of the gates and builds up to one of his classic crescendos, surfing the roiling waves of Jones' cymbals (at times hit so hard it sounds like they are phasing in and out). Joe Henderson's tenor sometimes recalls a less pious Coltrane, but with the warmth and melodic sensibility that were uniquely his own, and underpinning all of the excitement are Ron Carter's grounded but no less ecstatic bass lines.
Following the jolt of energy from Passion Dance, Tyner moves on to Contemplation, the first of two serene ballads on the album which demonstrate how nuanced Tyner's compositions can be, in his own words depicting 'A man reflecting on what religion means to him, reflecting on the meaning of life'. Tyner thoroughly investigates the deceptively simple theme, bringing it back to a trill before starting again. Search for Peace sets a Monkish mood, reminiscent of Crepuscule with Nellie, with Jones managing to bottle his natural impulsiveness with some subtle brushwork. Four in Five is a fast-paced hard-bop workout, almost in defiance of the free-jazz that Coltrane was still exploring (the session was recorded on 21st April 1967, several months before Coltrane passed away from liver cancer). The album closes with the ebullient Blues on the Corner, a good-natured snapshot of Tyner's childhood in Philadelphia, hanging out with his friends in the street, and a fine way to close this classic album.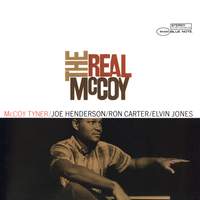 Available Formats: CD, MP3, FLAC, Hi-Res FLAC, Hi-Res+ FLAC