30th October 2019
 Recording of the Week

,

  Holland / Hussain / Potter - Good Hope
The genesis of this album comes from a group master tabla player Zakir Hussain assembled a few years ago in order to explore the rich, but largely under appreciated heritage of Bollywood film scores with an ensemble made up of Indian and Western musicians. For this album on Edition Records that original septet (which included guitarist Sanjay Divecha, pianist Louiz Banks, drummer Gino Banks, and vocalist Shankar Mahadevan) has been reduced to a trio of Hussain, bassist Dave Holland and saxophonist Chris Potter, with the focus here being on original compositions by the group.
The instrumentation offers transparent textures, with the strength of the compositions coming through. With no brittle sounds like cymbals or snares to fight through there's a welcome re-calibration of dynamics, as Holland and Hussain create a satisfyingly organic, woody sounding base which is a gift for Potter. Ziandi is a good example of this, opening with Holland's strolling bass to which Hussain's tabla provides counterpoint, almost sounding like slapping on the body of the bass, together forming some kind of meta-instrument, over which Potter's melody wends its way. In the middle section Potter recedes as Hussain and Holland spiral around each other, all aided by the clarity of the recording.
Lucky Seven is an up-tempo piece by Holland, Potter's soprano reminding me of Steve Lacey in his cool, emotionally detached lines that give the impression of describing the contours of an object rather than being directly melodic. There's understated beauty in Hussain's muted patterns on Bedouin Trail, played in a low register that meshes perfectly with Holland's quiet riff. It might have been nice to hear a couple of duo tracks, especially to afford us the opportunity to hear Hussain and Holland together, but this is no criticism of Potter who manages to keep his playing inventive throughout, especially his flurry of eastern scales on Holland's hypnotic Mazad. Hussain's Suvarna gives Holland solo space for the opening two minutes, before building up intricate expanding and contracting tabla patterns, and a strong melody for Potter to get animated with. Good Hope has a benevolent, life affirming quality I found very appealing, best appreciated by spending a quiet evening listening in order to draw out its subtleties and considerable charms, which continue to grow with repeated listens.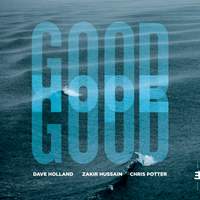 Dave Holland, Zakir Hussain, Chris Potter
Available Formats: CD, MP3, FLAC, Hi-Res FLAC