10th September 2019
 Classic Recordings

,

  Erroll Garner - Concert by the Sea
Errol Garner's Concert by the Sea is one of a handful of classic jazz albums that broke through into popular consciousness and found itself in the record collection of many a middle-class household across America, alongside the Oscar Peterson Trio's Night Train, and a few years later Dave Brubeck's Take Five (the fairly silly cover featuring a girl in hipster jeans and arms outstretched on some rocks by the sea no doubt helped). The concert was recorded for radio broadcast and offered to Columbia, who initially dismissed it as unusable, the mono being hardly up to Columbia's normal high standards of that era, plus Garner's piano was hardly immaculately tuned. It was Garner's manager, Martha Glaser, who noticed a tape recording being made on the night and took that potential bootleg copy to the company's head of jazz, George Avakian, who recognised its worth and released it. It was a wise move, going on to make over one million dollars in under two years. Sadly, its success sparked protracted contractual wrangling with the label that ultimately hampered Garner's ability to fully capitalise on the album's success.
Recorded on September 19th, 1955 in the hall of Sunset School, in Carmel-by-the-Sea in California, part of the enduring appeal of Concert by the Sea is the audible rapport between the group and an especially appreciative audience. On this occasion servicemen from a nearby army base had been bused in, adding to the lively atmosphere of people clearly enjoying themselves. Bassist Eddie Calhoun and drummer Denzil Best accompany Garner in a gloriously upbeat set of standards. Some critics in the period were snooty about Garner's playing, and he was not an innovator like Thelonious Monk or Bud Powell. Where Monk would use silence as a compositional tool, Garner is keen to fill everything with trills and flourishes, which can sometimes risk making his playing become ornate background music. This was my impression on first encounter many years ago, but with more attentive listening (and a greater familiarity with the standards on my part) Garner's pianistic imagination and technical ability is endlessly fascinating.
Take the way he gives the ballad I'll Remember April a bop rinsing, diving into a solo that plays with the theme like a cat with a toy, and then finished before you know it. Ellington's Caravan gets a brilliant reworking; marvel at how doggedly Garner's left hand pounds out the riff whilst his right picks out the melody, and this is just the start; the riff gets reversed and adjusted to slip in and out of the beat, all in complete isolation from the fluidity of the string of sixteenth-note runs. Calhoun and Best deserve equal credit for the majestic sense of flow as the excitement mounts.
Garner is capable of slowing things down, as in Autumn Leaves, Laura and The Nearness of You, albeit with a sense that he's always chomping at the bit, the ideas pouring out of him at such a rate of knots, grandiose chords ramping up the drama. First and foremost this is finger-snappin' fast-paced jazz though, and no sooner has he finished a ballad than he's racing through When or Where or Will You Still Be Mine, recognisable hits of the era given a short ride in a fast machine. I heartily recommend investing in the complete concert, which although there is a risk of overdose if taken in one sitting, is so consistently joyous that you owe it to yourself to have the full thing. It also includes a nice time-capsule bonus track of post-concert interviews with Garner, Calhoun and Best, all of whom seem thoroughly elated by the evening, and the euphorious reception they recieved from the audience.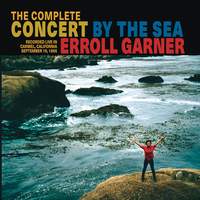 Recommended as the definitive version of the full concert.
Available Formats: 3 CDs, MP3, FLAC, Hi-Res FLAC, Hi-Res+ FLAC