30th July 2019
 Recording of the Week

,

  Tubby Hayes Quartet - Grits, Beans And Greens
Those lucky enough to have witnessed tenor saxophonist Tubby Hayes live on stage in his prime often pointed out that the untrammelled spontaneity of his playing was rarely captured on record. In which case, based on the form he was on for these long-lost Fontana sessions from 1969, he must have been mind-blowing in the flesh indeed. The jazz market abounds with 'rediscovered' albums of dubious provenance, but this lovingly remastered and packaged set is something very special indeed, presenting the UK's most highly regarded player in sessions that bulldoze the widely held notion that Hayes was a spent force by the late sixties.
If we consider how tough it must have been to be a jazz saxophonist in somewhere like New York in the fifties and sixties, with talents like Coltrane, Rollins, and Adderley on the scene, it speaks volumes that Hayes, from Raynes Park, south-west London was considered a major talent by his American contemporaries. Admired by none other than Miles Davis, who made a point of going to see him live, Hayes played alongside the likes of Roland Kirk, Zoot Sims, Clark Terry and many others. Of course, at home many a nimbyish critic failed to appreciate home-grown talent when it was staring them in the face, but this did not stop Hayes establishing a large and enthusiastic audience in the late fifties and early sixties, leading to numerous record releases and even his own television series. As with so many of his jazz contemporaries of the time though, the pop revolution lead by The Beatles in 1963 effectively lured the away youth who had been buying his records, and Hayes sank deeper into the heroin addiction that ultimately claimed his life in 1973. The fact that fifty years later Grits, Beans And Greens: The Lost Fontana Studio Session 1969 should spark a major re-appraisal of Tubby Hayes is therefore to be welcomed, coming at a time when the London jazz scene is once again attracting a young audience.
For Members Only kicks things off to a swinging start, with drummer Spike Wells throwing us into the action. Hayes's first solo is bold and exciting, weaving in and out of Wells's patterns, with Mike Pyne's piano keeping some semblance of order. It's got a comparable energy to Giant Steps period Coltrane, especially in Hayes's confidence and the manner in which he wraps the tune up. Pyne also gets in a tidy solo before the band bounce back and forth with Wells in a call-and-response section, as if trying to dissipate the energy. Grits, Beans and Greens maintains the intensity, and Pyne, Wells, and bassist Ron Mathewson prove themselves a truly responsive rhythm section, laying out a zig-zagging series of stepping-stones for Hayes to skip across. Perhaps slightly more abstract than For Members Only, but still tuneful, I really admire the sense of effortlessness that radiates out here, and this reflects the record as a whole. And if you were told that Rumpus, which closes the first side, was a lost Joe Henderson session from the same period, you'd be forgiven for believing it.
You Know I Care, a lovely take on the Duke Pearson's ballad, is a welcome change of pace, Hayes's breathy tone appropriately close-miced, demonstrating the range that Hayes had at his disposal. There's a magic moment near the end where the band drops out and Hayes delivers a genuinely moving cadenza. For the final track, Where Am I Going, the band sets up a mid-tempo bossa nova groove over which Hayes rolls out a consistently inspired solo. It's worth tuning into Ron Mathewson's bass lines here, unafraid to experiment with ideas that contrast and comment melodically on the sax and piano solos, and Wells similarly avoids resting on his laurels, picking up the pace subtly, all of which makes this album far more than simply a star-vehicle for Hayes.
Universal have done an immaculate job of presenting this set and offer two CD versions as well as the vinyl. The standard CD offers the five master takes as a classic album, whilst the Special Edition collects up all the existing multiple takes and presents them in the order they were recorded on Tuesday, 24 June 1969, at Philips studio in Stanhope Place, plus some versions from an earlier session in May, 1969. As ever it's a mini-dilemma for the jazz lover to ponder – on the one hand it's great to have all the alternate takes and the studio chatter, but on the other, it stands as such a strong statement as an album in its own right (I'd even go as far as to say classic album) that it also deserves to be heard as was intended (or as near as dammit). Whatever you decide, at the heart of the record are memorable original tunes by Hayes that hold up to anything that was being written at the time, performed as brilliantly as anyone playing at the time, and had it not languished for half a century they might well be standards now, so who knows, this new lease of life might yet make it so.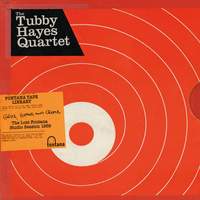 The straight album.
Available Formats: CD, MP3, FLAC, Hi-Res FLAC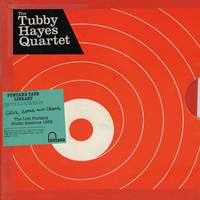 The full sessions with all the alternate takes.
Available Formats: 2 CDs, MP3, FLAC