UPDATE: Royal Mail have now resumed shipments on their TRACKED & SIGNED and SIGNED services but delays should be expected, please choose these services if available to you or FEDEX if your order is urgent.
24th June 2019
 Recording of the Week

,

  Ruud Breuls & Simon Rigter Quintet
Rise and Shine is an album of straight-ahead bop from the Ruud Breuls & Simon Rigter Quintet, a group drawn up from veterans of the Netherlands jazz scene. Their collective years of experience are evident everywhere, with Ruud Breuls (tenor sax) and Simon Rigter (trumpet) both coming from top notch big bands (Breuls the German WDR Big Band, the Rigter the Jazz Orchestra of the Concertgebouw). They first played together under the wing of pianist Cees Slinger, a key figure on the mainstream jazz scene in the Netherlands, and first choice for many US musicians playing in Europe; there's a recording of Slinger playing with Ben Webster that is worth investigating. After Slinger passed away in 2007 Breuls and Rigter started the current project with pianist Karel Boehlee (regular accompanist for Toots Thielemans) bass player Jos Machtel and the versatile drummer Marcel Serierse.
A jovial take on Monk's Let's Cool One is the only standard on the album, the rest of the tracks being originals penned by either Rigter or Boehlee and including some genuinely memorable tunes. Blanton is a tribute to Jimmy Blanton, Ellington's bassist who rewrote the rulebook on the role of the bass in jazz before tragically succumbing to tuberculosis aged just 23. Jos Machtel plays the tricky bass part with aplomb, at times recalling the famous duo recordings Blanton made with just Ellington on piano. The opening track Mr T. has the energy of the Jazz Messengers or Horace Silver, with some exciting sax runs from Breuls. The sheer perfection of some of the playing, especially in unison passages, is my only minor issue (unsurprising considering their big band roots). It can be heard on the opening theme of Get Your Fringe Back, but just manages to avoid slipping into sounding overly polished due to the quality of the writing.
Pianist Karel Boehlee contributes the album's most moving composition, Goodbye Cerbaia, a lovely theme played with a hushed sincerity by the full band, and a good place to hear the sensitivity of the rhythm section – Machtel's fluid bass playing, maintaining the sense of stillness whilst keeping things interesting dovetailing nicely with Serierse's delicate brush work. The album closes with the title track, a solid straight-ahead bop burner, Rigter's trumpet sounding especially glorious as it rides the surging currents kicked up by the rhythms section. A thoroughly enjoyable record.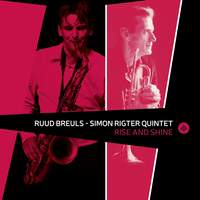 Ruud Breuls & Simon Rigter Quintet
Available Formats: CD, MP3, FLAC