UPDATE: Royal Mail have now resumed shipments on ALL International services but delays should be expected, please choose FEDEX if your order is urgent.
24th May 2019
Recording of the Week

,

Alexi Tuomarila Trio - Sphere
Finnish pianist Alexi Tuomarila has steadily been building up quite a catalogue over the past 15 years, especially with this group: his long-standing trio with bassist Mats Eilertsen and drummer Olavi Louhivuori. Probably most notable amongst his wide range of collaborations over the years was his appearance on the late trumpeter Tomas Stanko's introspective masterpiece Dark Eyes on ECM (a date that also included Louhivuori).
With Sphere it feels like Tuomarila has reached a new stage in both his composing and performing and, in no way meaning to diminish previous albums, there does seem to be a new-found confidence here. 'For me Sphere in this context represents the constantly morphing and boiling space, where music is happening...' Tuomarila has commented recently, 'the musical sphere is constantly changing and evolving, as is the musicians' personal taste and approach towards music'. Esbjörn Svensson's EST cast a long shadow over the European jazz scene of the past two decades, with Tuomarila's trio clearly indebted to the innovations of that group. With Sphere there is a sense of the group transcending such comparisons and striking out with its own voice.
And so, to the music. Shapeshifter is a bold opening track, Tuomarila at first almost robotic in his relentless arpeggios, allowing his colleagues to build up a head of steam, then letting loose on exhilarating piano runs. As so often on the album, Louhivuori manages to bring the group in and out of rhythmic focus. Sirius would have made a great alternative to Jacques Loussier's Air on a G String from the old Hamlet adverts, such is its Bachian elegance, Eilertsen's stately bass nicely underpinning the piano ruminations.
Jord reminded me of Little Red Riding Hood Hit the Road from Robert Wyatt's Rock Bottom, specifically Hugh Masakela's contribution, but also the expansive, open-ended McCoy Tyner-esque chords left hanging. Verneri Pohjola's trumpet is fantastic - his playing is alert and interesting throughout all of his contributions. The track also demonstrates Tuomarila's knack for writing engaging material that resonates on an emotional level. Pohjola also makes a memorable contribution to Krakow (a nod from Tuomarila to the departed Stanko possibly?) a cautious and episodic piece which threatens to collapse but somehow holds together, before closing on an open cadence. Celeste is built around a repetitive 3-note motif on piano, allowing Eilertsen and Louhivuori freedom to embellish around the simple line, before Tuomarila breaks the tension and goes off on a tremendous rhapsodic solo, fully demonstrating why he's viewed as one of the bright lights on the European jazz scene.
As with Elliot Galvin's Modern Times released last month, Edition Records are proving that there is plenty of scope for the piano trio as a forum for musical innovation, with Tuomarila, Eilertsen and Louhivuori delivering a completely satisfying long-player with Sphere.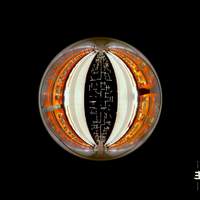 Available Formats: CD, MP3, FLAC, Hi-Res FLAC