2nd May 2019
 Recording of the Week

,

  Claire Martin
Claire Martin has been recording for Linn Records more or less since the inception of the label, and in that time it has been interesting to watch how her career has developed. Since her debut album The Waiting Game (recorded in 1992 when Martin was only 25), Believin' It is her twentieth album and as ever she continues to experiment with new material. This is also the first recording with her Swedish trio, made up of Uppsala-born pianist/arranger Martin Sjöstedt, bassist Niklas Fernqvist and drummer Daniel Fredriksson. Sjöstedt is proving one of Sweden's most gifted jazz musicians and here comes up with some novel arrangements for an eclectic mix of tracks. Martin has been working with Swedish musicians for many years so it is nice to hear the fruits of that relationship now. It's a contrast to her other pairings, which have always been novel, from singin' pianist-raconteur Joe Stilgoe, to the Montpelier String Quartet and late composer and pianist Richard Rodney Bennett, with whom Martin had a lifelong friendship.
Martin has an easy-going delivery which suits the material on offer here well. You Dream Flat Tyres has some pleasant choppy arrangements from the Swedes, particularly Fernqvist's fulsome bass and Fredriksson's brush work. Personally I could live without a cover of Mr Mister's Broken Wings, tasteful though it may be, but more to my taste is the version of 10cc's I'm Not in Love which manages to bring something new and jazzy to the original. Martin's subtle vocal performance on this is a highlight of the disc, and the chorus is a treat when it arrives.
Title track Believin' It is a welcome up-tempo tune, with Martin walking the tightrope between singing and scatting the words with real style. The Great City paints a picture of a metropolis as viewed through jazz lenses – Sjöstedt's breakout piano solo matching the ebullience in Martin's vocal. Being a Linn recording the sound is superb of course, and I can heartily recommend this for anyone who enjoys mainstream vocal jazz, as this showcases Claire Martin's velvet voice superbly.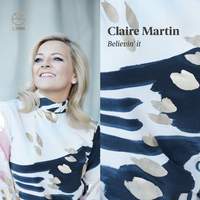 Available Formats: MP3, FLAC, Hi-Res FLAC