18th April 2019
 Classic Recordings

,

  Dave Holland - Conference of the Birds
I have chosen Dave Holland's Conference of the Birds as this week's Classic Album as it represents one of the most purely enjoyable examples of free jazz from the seventies. Don't be unduly frightened off by the "free jazz" label - I use the term here in the spirit of the Ornette Coleman Quartet's classic albums rather than a free for all like Coltrane's Ascension or Brotzmann's Machine Gun - in other words, there are often catchy melodies involved, only they might get roughed up a bit along the way.
Dave Holland had been living in New York for four years when Conference of the Birds, his debut album as a leader, was recorded in November of 1972. Miles Davis invited him over in 1968 to join as his new bassist, at a time when the classic quintet was morphing into the more loosely convened groups of the electric era. Just 22, Holland joined for Filles de Kilimanjaro, but truly made his mark with the repetitive yet funky bassline for It's About That Time on the landmark In a Silent Way sessions. Holland quickly became one of the most in-demand players on the scene and recorded in a variety of different contexts - with John McLaughlin and John Surman on Where Fortune Smiles and even duetting hardcore improv legend Derek Bailey. Conference of the Birds was the first proper showcase for Holland's talents as a composer, and the influence of Ornette Coleman is clear, although Holland has his own way with tunes and arrangements and provides plenty of material for the band to explore off-grid.
The group he assembled were at the core of the seventies free jazz scene. Holland had worked with saxophonist Anthony Braxton and drummer Barry Altschul in the group Circle (along with pianist Chick Corea) and his partnership with Altschul made for one of the most dynamic rhythm sections of the decade, and both would work regularly for Rivers and Braxton on their own projects, appearing on classics like Braxton's The Montreux/Berlin Concerts, and Rivers' Sizzle. Rivers was over twenty years older than his colleagues, and he too had briefly been a member of Davis's group briefly in the early sixties, before being ejected in favour of Wayne Shorter for being too out-there. As far as I know this is the only session to feature Braxton and Rivers appearing together, a pity as the rapport between them is fantastic, their individual styles contrasting well. Q & A, the most "out" track on the album, allows for some great dialogue between them, Rivers' flute darting around above Braxton's guttural bass clarinet to exciting effect. Altschul's percussion really holds the more free-floating tracks on the album together, with constantly shifting textures.
The title track is a surprisingly gentle, almost pastoral piece that wouldn't sound too out of place as an instrumental on Nick Drake's Bryter Later. It opens with a lyrical bass solo from Holland, demonstrating how just how versatile a player he can be. He explains the inspiration for the title on the sleeve of the record: "While living in London I had an apartment with a small garden. During the summer around 4 or 5 o'clock in the morning, just as the day began, birds would gather here one by one and sing together, each declaring its freedom in song. It is my wish to share this same spirit with other musicians and communicate it to the people."
The album has plenty of driving, freeform fun, with Four winds, Interception and See-Saw offering more than enough of your recommended 5-a-day skronk intake. Great to hear Braxton, still at a relatively early stage of his career, developing that astonishing range, including the exhilarating high speed, twittering staccato harmonics that became a hallmark of his style, clearly inspired by Rivers' authoritative presence. The production is superb, a prime example of the classic ECM sound from the seventies, and engineered by Tony May, Manfred Eicher's first choice when sessions were recorded in New York. Unlike a lot of free jazz records from the sixties this can be played loud so the bass has real punch, without the horns drowning everything out. I hope you enjoy it.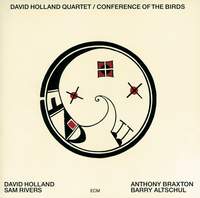 Available Formats: CD, MP3, FLAC, Hi-Res FLAC, Hi-Res+ FLAC
Great vinyl pressing, and at an attractive price.
Available Format: Vinyl Record
These releases are also worth exploring if you enjoyed this...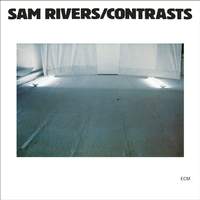 A fine example of Dave Holland and Sam Rivers' long-standing working relationship this 1980 quartet date includes drummer Thurman Barker and George Lewis on trombone - both members of Chicago's Association for the Advancement of Creative Musicians (AACM).
Available Formats: CD, MP3, FLAC, Hi-Res FLAC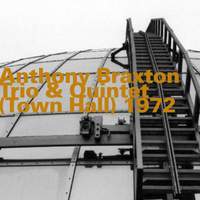 Recorded in the same year, 1972, this live set demonstrates just how much farther out Braxton was pushing his music than Holland. Challenging but it takes you to some fascinating places.
Available Formats: CD, MP3, FLAC