UPDATE: Royal Mail have now resumed shipments on ALL International services but delays should be expected, please choose FEDEX if your order is urgent.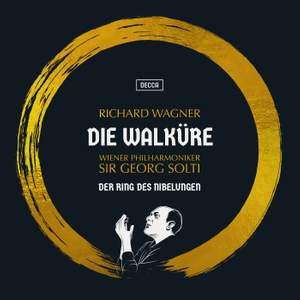 New

,

Wagner: Die Walküre
Birgit Nilsson (Brünnhilde), Hans Hotter (Wotan), Régine Crespin (Sieglinde), James King (Siegmund), Christa Ludwig (Fricka), Gottlob Frick (Hunding)
Wiener Philharmoniker, Sir Georg Solti
Contents
James King (tenor), Hans Hotter (bass (vocal)), Berit Lindholm (soprano), Régine Crespin (soprano), Gottlob Frick (bass (vocal)), Birgit Nilsson (soprano), Ernst Wiemann (bass (vocal)), Brigitte Fassbaender (contralto), Christa Ludwig (mezzo-soprano), Helen Watts (contralto), Helga Dernesch (soprano), Vera Little (mezzo-soprano), Claudia Hellmann (mezzo-soprano), Marilyn Tyler (soprano), Vera Schlosser (soprano)
Wiener Philharmoniker
Sir Georg Solti
Recorded: 1965-11
Recording Venue: Sofiensaal, Vienna
Wes Herd dies auch, hier muß ich rasten
Kühlende Labung gab mir der Quell
Müd am Herd fand ich den Mann
Friedmund darf ich nicht heißen
Aus dem Wald trieb es mich fort
Ich weiß ein wildes Geschlecht
Ein Schwert verhieß mir der Vater
Winterstürme wichen dem Wonnemond
Wehwalt heißt du fürwahr?
Nun zäume dein Ross, reisige Maid
Der alte Sturm, die alte Müh'
So ist es denn aus mit den ewigen Göttern
Schlimm, fürcht ich, schloß der Streit
Was keinem in Worten ich künde
Ein andres ist 's: achte es wohl
O sag, künde, was soll nun dein Kind?
Raste nun hier; gönne dir Ruh!
Hinweg! Hinweg! Flieh die Entweihte!
So wenig achtest du ewige Wonne?
Zauberfest bezähmt ein Schlaf
Kehrte der Vater nur heim
Schützt mich und helft in höchster Not
Nicht sehre dich Sorge um mich
Wo ist Brünnhild', wo die Verbrecherin?
Wehe! Weh! Schwester, ach Schwester!
Nicht weise bin ich, doch wusst' ich das eine
So tatest du, was so gern zu tun ich begehrt
Du zeugtest ein edles Geschlecht
Leb wohl, du kühnes, herrliches Kind
Denn einer nur freie die Braut
Loge, hör! Lausche hieher!