UPDATE: Royal Mail have now resumed shipments on their TRACKED & SIGNED and SIGNED services but delays should be expected, please choose these services if available to you or FEDEX if your order is urgent.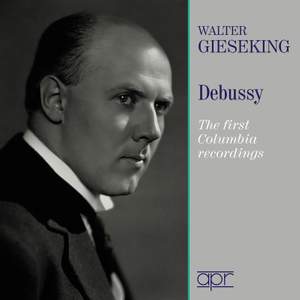 Walter Gieseking Plays Debussy - the First Columbia Recordings
Gieseking was indeed a 'sorcerer'. Hear him in 'Voiles', 'Les sons et les parfums' or 'Des pas sur la neige' and you sense how everything is accomplished by tonal finesse rather than heavy underlining...

— More…
International Classical Music Awards

2023

Nominated - Historical
Contents
Debussy: Préludes - Book 1
III. Le vent dans la plaine
IV. Les sons et les parfums tournent dans l'air du soir
V. Les collines d'Anacapri
VII Ce qu'a vu le vent d'ouest
VIII. La fille aux cheveux de lin
IX. La sérénade interrompue
X. La cathédrale engloutie
Debussy: Préludes - Book 2
IV. Les fées sont d'exquises danseuses
VI. Général Lavine. Eccentric
VII. La terrasse des audiences du clair de lune
IX. Hommage à S. Pickwick Esq. P.P.M.P.C.
XI. Les tierces alternées
Debussy: Deux arabesques, L. 66
II. Allegretto scherzando
Debussy: Suite Bergamasque
Debussy: Danse (Tarentelle styrienne)
II. La soirée dans Grenade
III. Jardins sous la pluie
 Excerpt,  Debussy: Images pour piano - Book 1
 Excerpt,  Debussy: Images pour piano - Book 2
I. Cloches à travers les feuilles
Debussy: Children's Corner
I. Doctor Gradus ad Parnassum
III. Serenade for the Doll
Debussy: La plus que lente