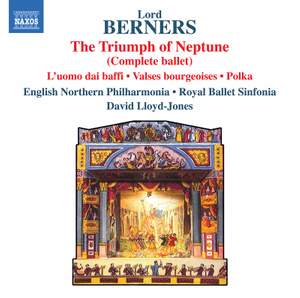 Offer

,

 Lord Berners: Triumph of Neptune
Clive Bayley (bass), English Northern Philharmonia, Royal Ballet Sinfonia, David Lloyd-Jones
CD
Original price
($11.25)
Reduced price
$9.00
Contents
Tyrwhitt-Wilson: The Triumph of Neptune
Clive Bayley (bass)
English Northern Philharmonia
David Lloyd-Jones
Adagio "The Frozen Forest"
Intermezzo "Sunday Morning"
Entry of Neptune's Chariot
Dance of the Fairy Princess
Tyrwhitt-Wilson: L'uomo dai baffi
English Northern Philharmonia
David Lloyd-Jones
Intermezzo I (Orch. P. Lane)
Intermezzo II (Orch. P. Lane)
Tyrwhitt-Wilson: Valses bourgeoises (3)
Royal Ballet Sinfonia
David Lloyd-Jones
No. 3, Strauss, Strauss et Straus
Tyrwhitt-Wilson: Champagne Charlie "Polka"
Royal Ballet Sinfonia
David Lloyd-Jones