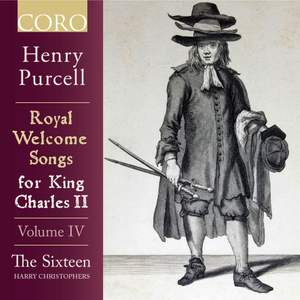 New

,

   Offer

,

 Royal Welcome Songs for King Charles II Volume IV
Mark Dobell, Hugo Hymas, George Pooley, Ben Davies, Daniel Collins, Kirsty Hopkins, Katy Hill, Stuart Young
The Sixteen, The Sixteen Orchestra, Harry Christophers
CD
Original price
($16.25)
Reduced price
$13.00
Contents
Purcell: God save our sovereign Charles, Z250
Mark Dobell, Hugo Hymas, George Pooley
The Sixteen, The Sixteen Orchestra
Harry Christophers
Purcell: Swifter, Isis, swifter flow (Welcome Song for Charles II, 1681)
Mark Dobell, Kirsty Hopkins, Hugo Hymas, Ben Davies, Daniel Collins, Katy Hill, George Pooley, Stuart Young
The Sixteen Orchestra, The Sixteen
Harry Christophers
Symphony - Swifter, Isis, Swifter Flow
Land Him Safely On Her Shore
Hark, Hark! Just Now My Listening Ears
Welcome, Dread Sir, to Town
But With As Great Devotion Meet
Your Augusta He Charms With No Lesser Delight
The King Whose Presence Like the Spring
Then Since, Sir, From You All Our Blessings Do Flow
Purcell: Six-Part In Nomine in G minor, Z746
The Sixteen Orchestra, The Sixteen
Harry Christophers
Taverner: Missa Gloria tibi Trinitas: Benedictus
The Sixteen, The Sixteen Orchestra
Harry Christophers
Purcell: Seven-Part In Nomine, Z. 747, "Dorian"
The Sixteen Orchestra, The Sixteen
Harry Christophers
Purcell: Theodosius, or The Force of Love - incidental music, Z606
Kirsty Hopkins, Ben Davies, Katy Hill, Hugo Hymas, Mark Dobell
The Sixteen, The Sixteen Orchestra
Harry Christophers
Prepare, Prepare, The Rites Begin
Hark! Behold The Heav'nly Choir!
Now, Now The Fight's Done
Sad As Death At Dead Of Night
Dream No More Of Pleasures Past!
Purcell: The Lord is my light, Z55
Daniel Collins, Mark Dobell, Ben Davies
The Sixteen, The Sixteen Orchestra
Harry Christophers
Purcell: The summer's absence unconcerned we bear, Z337
Kirsty Hopkins, Stuart Young, Katy Hill, Hugo Hymas, Daniel Collins, Mark Dobell, Ben Davies
The Sixteen Orchestra, The Sixteen
Harry Christophers
The Summer's Absence Unconcerned We Bear
And When Late From Your Throne Heaven's Call You Attend
Ah! Had We, Sir, The Power Of Art
Happy While All Her Neighbours Bled
So Happily Still You Your Counsels Employ
But Those No More Shall Dare Repine