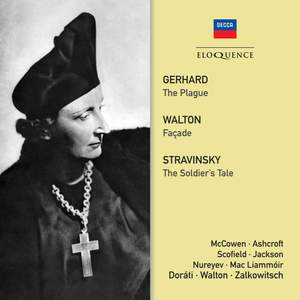 Gerhard: The Plague, Walton: Façade & Stravinsky: The Soldier's Tale
National Symphony Orchestra Chorus, National Symphony Orchestra Washington, Antal Dorati, London Sinfonietta, Sir William Walton, Argo Chamber Ensemble, Gennady Zalkowitsch
s[The Gerhard is] tunningly performed and engineered.

—
Contents
Alec McCowen (narrator)
National Symphony Orchestra Chorus, National Symphony Orchestra Washington
Antal Dorati
Recorded: 1973-05-11
Recording Venue: Constitution Hall, Washington D.C.
"Oran! Town without any trees or gardens"
"They're coming out, good and proper..Next morning, on my round of visits"
"By dint of perseverance"
"So they got alarmed, at last"
"The boy had been put in a small ward"
"The're coming out again! The rats!...The official communiqués"
Walton: Façade - An Entertainment
Peggy Ashcroft (narrator), Paul Scofield (narrator)
London Sinfonietta
Sir William Walton
Recorded: 1969-05
Recording Venue: Abbey Road Studios, London
5. Through Gilded Trellises
10. A Man from a Far Countree
15. Something Lies Beyond the Scene
20. Fox-trot "Old Sir Faulk"
Stravinsky: L'Histoire du Soldat
Glenda Jackson (narrator), Rudolf Nureyev (narrator), Michael MacLiammoir (narrator), Tristan Fry (percussion), Alfred Flaszynski (trombone), Grahame Whiting (cornet), John Price (bassoon), Gervase de Peyer (clarinet), Erich Gruenberg (violin), Gary Brennan (double bass)
Argo Chamber Ensemble
Gennady Zalkowitsch
Recorded: 1975-09-05
Recording Venue: Tollington Park, London
The Soldier's March - "Through the rugged countryside"
Music for Scene 1: Airs by a stream - "While the soldier's been playing"
"Your violin - give it me"
The Soldier's March - "Down the street where he was born"
"It's over, at last I'm home"
Music for Scene 2: Pastorale
"Ah, villain, black-hearted knave"
Music for the end of Scene 2
"He set about reading the book"
Airs by a stream - "The things of summer"
"The poor have everything"
Music for Scene 3: Airs by a stream
The Soldier's March - "Through the rugged countryside"
"Now the scene changes to another country full of strangers"
"The music struck up, the king himself received me"
The Little Concert - "Princess, now please rest assured"
"The bedchamber, where the Princess lies pale and unmoving" - Tango - "The Princess opens her eyes"
"The Princess dances" - Valse
"The Princess smiles" - Ragtime
"The Devil himself has entered"
The Devil's Dance - "The Devil dances"
The Devil's song - "You may think that you have won"
Great Chorale - "Don't try to add to what you now have"
Triumphal March of the Devil - "You can't have everything"