Latest update: Due to disruptions after a recent warehouse move by the UK's largest music distributor, the supply of various labels including Decca, DG, Sony, and Harmonia Mundi are subject to significant delays. Please continue to order products from these labels, as the situation should be back to normal within the next few weeks. This is affecting all UK music retailers at the present time. If you have any questions please do contact us.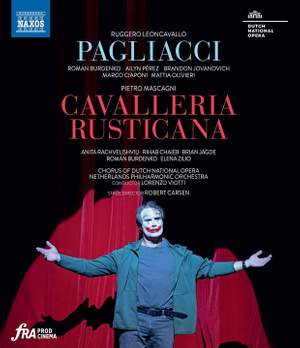 Leoncavallo: Pagliacci & Mascagni: Cavalleria rusticana
Anita Rachvelishvili (Santuzza), Rihab Chaieb (Lola), Brian Jagde (Turiddu), Roman Burdenko (Alfio), Elena Zilio (Mamma Lucia), Ailyn Pérez (Nedda), Brandon Jovanovich (Canio), Marco Ciaponi (Beppe), Mattia Olivieri (Silvio)
Netherlands Philharmonic Orchestra, Chorus of Dutch National Opera,...
International Classical Music Awards

2022

Nominated - Video Performance
Contents
Mascagni: Cavalleria Rusticana
Anita Rachvelishvili (mezzo-soprano), Rihab Chaieb, Brian Jagde (tenor), Roman Burdenko, Elena Zilio (contralto), Chorus of Dutch National Opera, Lorenzo Viotti
Netherlands Philharmonic Orchestra
Ailyn Pérez (soprano), Roman Burdenko, Brandon Jovanovich (tenor), Marco Ciaponi, Mattia Olivieri, Netherlands Philharmonic Orchestra, Chorus of Dutch National Opera, Lorenzo Viotti, Robert Carsen