US Airmail Charges: As a knock-on effect of COVID-19 airfreight prices around the world have soared. Reluctantly, we have had to pass on some of this increase in our standard airmail prices. We'll bring them down again as soon as we can!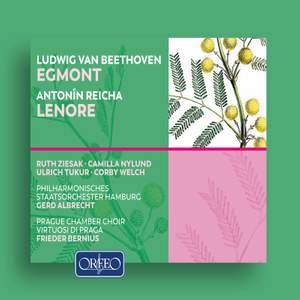 Offer

,

 Beethoven: Egmont, Op. 84 & Antonín Reicha: Lenore
Ulrich Tukur, Ruth Ziesak (soprano), lrich Tukur (narrator), Camilla Nylund (soprano), Pavia Vykopalová (mezzo), Corby Welch (tenor), Vladimir Chmelo (bass)
Philharmonisches Staatsorchester Hamburg, Virtuosi di Praga, Prague Chamber Choir, Frieder Bernius, Gerd Albrecht
Contents
Beethoven: Leonore Overture No. 2, Op. 72a
15:02
Philharmonisches Staatsorchester Hamburg
Gerd Albrecht
Beethoven: Egmont Incidental Music, Op. 84
44:56
Ruth Ziesak
Philharmonisches Staatsorchester Hamburg
Gerd Albrecht
Monologue 1 "Besteigt denn, von den Tönen hold geleitet"
1:55
Monologue 2 "Wo Egmont wandelt, hoch auf steilem Pfade"
1:06
Monologue 3 "Die Geliebte harrt"
0:28
V. Freudvoll und leidvoll
1:49
Monologue 4 "Sorglos dem Wort des Königs trauend"
0:38
VII. Entracte. Poco sostenuto e risoluto
3:25
Monologue 5 "Doch jenes Mädchen"
0:40
X. Siegessymphonie. Allegro con brio
1:20
Virtuosi Di Praga
Frieder Bernius
Corby Welch, Camilla Nylund, Pavia Vykopalová, Vladimir Chmelo
Prague Chamber Choir
Lenore fuhr uns Morgenrot
0:34
Er war mit König Friedrichs Macht
0:55
Der König und die Kaiserin
3:58
Die Mutter lief wohl hin zu ihr
1:13
O Mutter, Mutter! Hin ist hin!
6:19
Und aussen, horch! Ging's trap trap trap.
1:57
Holla, Holla! Tu auf, mein Kind
5:21
Schon Liebchen schürze, sprang und schwang
1:30
Und hurre hurre, hop hop hop!
1:57
Was klang dort für Gesang und Klang?
1:15
Lasst uns den Leib begraben!
3:04
Und näher zog ein Leichenzug
3:37
Still Klang und Sang. Die Bahre schwand
0:28
Und immer wieter, hop hop hop!
2:05
Geistertanz. Sieh da! Sieh da!
5:13
Und weiter, weiter, hop hop hop!
2:05
Rapp'! Rapp'! Mich dünkt, der Hahn schon ruft
2:01
Rasch auf ein eisern Gittertor
0:28
Ha sieh! Ha sieh! Im Augenblick
0:44
Hoch bäumte sich, wild schnob der Rapp'
2:31
Geheul! Geheul aus hoher Luft
1:38
Pantomime und Kettentanz der Geister
6:43
Nun tanzten wohl bei Mondenglanz
0:26
Geduld! Geduld! Wenn's Herz auch bricht!
2:49
Gott sei der Seele gnädig!
4:30