US Airmail Charges: As a knock-on effect of COVID-19 airfreight prices around the world have soared. Reluctantly, we have had to pass on some of this increase in our standard airmail prices. We'll bring them down again as soon as we can!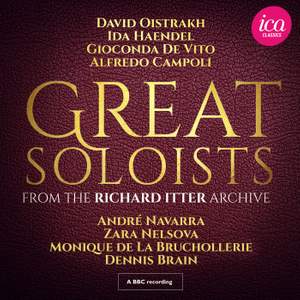 Offer

,

 Great Soloists from the Richard Itter Archive
David Oistrakh (violin), Ida Haendel (violin), Gioconda De Vito (violin), Alfredo Campoli (violin), André Navarra (cello), Zara Nelsova )cello), Monique de la Bruchollerie (piano), Dennis Brain (horn)
Royal Philharmonic Orchestra, Rome Symphony Orchestra, BBC Symphony Orchestra, London Symphony...
Hearing these distinguished performances on the wing makes for an invigorating listen. There are no surprises in Oistrakh's consummate mastery in the Tchaikovsky, but the tight orchestral playing,...

— More…
Contents
Tchaikovsky: Violin Concerto in D major, Op. 35
33:38
David Oistrakh (violin)
Royal Philharmonic Orchestra
Sir Malcolm Sargent
III. Finale. Allegro vivacissimo
9:30
Sibelius: Violin Concerto in D minor, Op. 47
30:28
Ida Haendel (violin)
Royal Philharmonic Orchestra
Basil Cameron
III. Allegro, ma non tanto
7:40
Viotti: Violin Concerto No. 22 in A minor, G97
35:25
Gioconda de Vito (violin)
RAI Rome Symphony Orchestra
Fernando Previtali
Lalo: Symphonie espagnole, Op. 21
33:54
Alfredo Campoli (violin)
BBC Symphony Orchestra
Alfred Wallenstein
II. Scherzando. Allegro molto
4:38
III. Intermezzo. Allegro non troppo
5:15
Tchaikovsky: Variations on a Rococo Theme, Op. 33
15:19
André Navarra (cello)
BBC Symphony Orchestra
Hans Schmidt-Isserstedt
Lalo: Cello Concerto in D minor
25:19
André Navarra (cello)
BBC Symphony Orchestra
Jean Martinon
I. Prélude. Lento - Allegro maestoso
12:14
II. Intermezzo. Andantino con moto - Allegro presto
6:11
III. Introduction. Andante - Allegro vivace
6:54
Dvořák: Cello Concerto in B minor, Op. 104
37:12
Zara Nelsova (cello)
BBC Symphony Orchestra
Sir Malcolm Sargent
III. Finale. Allegro moderato
11:40
Rachmaninov: Rhapsody on a Theme of Paganini, Op. 43
22:23
Monique de la Bruchollerie (piano)
BBC Symphony Orchestra
Eugene Goossens
Mozart: Horn Concerto No. 2 in E flat major, K417
14:02
Dennis Brain (horn)
Lodnon Symphony Orchestra
Walter Goehr
Mozart: Horn Concerto No. 4 in E flat major, K495
15:51
Dennis Brain (horn)
Royal Philharmonic Orchestra
Paul Sacher
III. Rondo. Allegro vivace
3:45
Strauss, R: Horn Concerto No. 1 in E flat major, Op. 11
13:28
Dennis Brain (horn)
BBC Symphony Orchestra
Sir Adrian Boult