Latest update: COVID-19 Shipping Delays. Presto is committed to the health and well-being of our staff. Our warehouse team are currently working hard to ensure your order is despatched as quickly as possible. Unfortunately you may experience slight delays as some deliveries are taking longer than usual. Thank you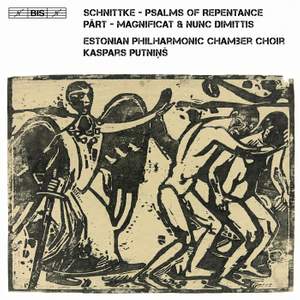 Offer

,

 Alfred Schnittke & Arvo Pärt: Choral Works
Raul Mikson (tenor), Maria Melaha (soprano), Karolina Kriis (soprano), Marianne Pärna (alto), Ave Hännikäinen (alto), Toomas Tohert (tenor), Kaia Urb (soprano)
Estonian Philharmonic Chamber Choir, Kaspars Putniņš
The performance by the Estonian Philharmonic Chamber Choir under Kaspars Putiniņš is really impressive with a particularly rich and sonorous bass sound that is absolutely tailor- made for this...

— More…
Contents
Schnittke: Psalms of Repentance
45:16
Raul Mikson (tenor), Maria Melaha (soprano), Karolina Kriis (soprano), Marianne Pärna (alto), Ave Hännikäinen (alto), Toomas Tohert (tenor)
Estonian Philharmonic Chamber Choir
Kaspars Putniņš
Recorded: January 2017
Recording Venue: St Nicholas' Church (Niguliste kirik), Tallinn, Estonia
No. 1, Adam Sat Weeping at the Gates of Paradise
2:43
No. 2, O Wilderness, Gather Me to Your Silent and Gentle Lap
4:09
No. 3, That Is Why I Live in Poverty
2:48
No. 4, My Soul, Why Are You in a State of Sin?
2:22
No. 5, O Man, Doomed and Wretched
3:03
No. 6, When They Beheld the Ship That Suddenly Came
1:47
No. 7, Oh My Soul, Why Are You Not Afraid?
5:14
No. 8, If You Wish to Overcome Unending Sorrow
1:57
No. 9, I Have Reflected on My Life as a Monk
6:30
No. 10, Christian People, Gather Together!
3:40
No. 11, I Entered This Life of Tears a Naked Infant
3:32
No. 12, (Wordless Humming)
7:31
Kaia Urb (soprano)
Estonian Philharmonic Chamber Choir
Kaspars Putniņš
Kaia Urb (soprano)
Estonian Philharmonic Chamber Choir
Kaspars Putniņš