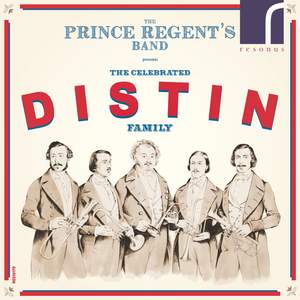 The Celebrated Distin Family
Richard Fomison, Richard Thomas, Anneke Scott, Phil Dale, Jeff Miller
The Prince Regent's Band
Rounded, velvet tones; impeccably secure intonation; sweetly subtle dynamics: I felt I was taking a sumptuous bath in nothing but golden syrup…everything here is nimble and bright, and well worth...

— More…
Contents
Meyerbeer: Le prophète: Coronation March
3:29
Berlioz: Chant sacré in A-Flat Major, H 44
5:00
Fauconnier: Quatuor sur un Thème d'un Sextuor pour Piano, deux Violons, Violoncelle, Flûte et Contrabasse
2:58
Donizetti: Lucia di Lammermoor: Trio "Ah! O sole, più ratto"
1:03
Gretry: Richard Cœur-de-Lion: Trio "Une fièvre brûlante"
1:23
Arban: Fragments mélodiques sur 'Messe de Requiem' de Verdi
10:22
Henry Distin: Distin's Polka
2:52
Distin: Distin's Military Quadrilles
5:59
Handel: Let the bright seraphim (from Samson)
5:04
Kent, J: 12 Anthems: No. 2, Blessed be Thou Lord God of Israel
5:08
Thomas Arne, Henry Leslie: Rule Britannia from "Alfred"
1:33
Theodore Distin: The Last Rose of Summer
2:20