US deliveries: Unfortunately we are receiving reports that some US orders are taking longer than usual to arrive. Find out more >>
Latest update: Changes to international postage charges. Find out more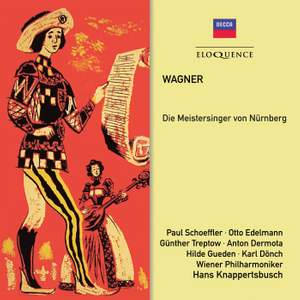 Offer

,

 Wagner: Die Meistersinger von Nürnberg
Paul Schöffler (Hans Sachs), Otto Edelmann (Veit Pogner), Hugo Meyer-Welfing (Kunz Vogelgesang), Wilhelm Felden (Konrad Nachtigall), Karl Dönch (Sixtus Beckmesser), Alfred Poell (Fritz Kothner), Erich Majkut (Balthasar Zorn), William Wernigk (Ulrich Eisslinger), Hermann Gallos (Augustin Moser), Harald...
Whichever version you own or plan to acquire, this old Knappertsbusch may be the most authentic for both conducting and singing – as long as you can accept the ageing sound and disregard the...

— More…
Contents
Wagner: Die Meistersinger von Nürnberg
4:26:09
William Wernigk (tenor), Else Schurhoff (mezzo-soprano), Karl Dönch (bass), Ljubomir Pantscheff (bass), Anton Dermota (tenor), Paul Schöffler (baritone), Franz Bierbach (bass), Hilde Gueden (soprano), Wilhelm Felden (bass), Günther Treptow (tenor), Otto Edelmann (bass), Alfred Poell (baritone), Hermann Gallos (tenor), Harald Pröglhöf (bass), Hugo Meyer-Welfing (tenor), Erich Majkut (tenor)
Wiener Philharmoniker, Wiener Staatsoper
Hans Knappertsbusch
Recorded: 1950-09-02
Recording Venue: Musikvereinssaal, Vienna
"Da zu dir der Heiland kam"
3:43
Mein Herr! Der Singer Meisterschlag...Der Meister Tön
14:07
"Seid meiner Treue wohl versehen"
4:41
"Nicht doch, ihr Meister"
8:18
"Verzeiht, vielleicht schon ginget ihr zu weit"
5:06
Wohl Meister! Zur Tagesordnung...Dacht'ich mir's doch
3:36
"Nun, Meister! Wenn's gefällt"
2:29
Was Euch zum Liede...Für dich, Geliebte
3:09
Fanget an!- So rief der Lenz in den Wald
5:36
"Halt Meister! Nicht so geeilt!"
7:50
"Johannistag! Johannistag!"
3:49
"Laß sehn, ob Meister Sachs zu Haus?"
6:20
"Was duftet doch der Flieder"
5:47
Da ist er!...Geliebter, spare den Zorn
5:22
Hört, ihr Leut und laßt euch sagen...Üble Dinge
3:24
Den Tag sah ich erscheinen...Mit den Schuhen
6:44
Zum Teufel mit dir, verdammter Kerl!
4:40
"Wahn! Wahn! Überall Wahn!"
7:07
Ein Werbelied! Von Sachs!...Das Gedicht? Hier ließ ichs
11:36
So ganz boshaft...Sieh, Evchen, dacht ich's doch
7:17
"Hat man mit dem Schuhwerk"
4:20
"Mein Kind, von Tristan und Isolde"
4:09
"Die "selige Morgentraum-Deutweise""
1:15
Sankt Krispin! Lobet ihn!.....Ihr tanzt
11:27
"Wacht auf! Es nahet gen den Tag"
2:37
"Euch macht ihr's leicht"
7:23
Verachtet mir die Meister nicht!...Ehret ihre deutschen
6:22