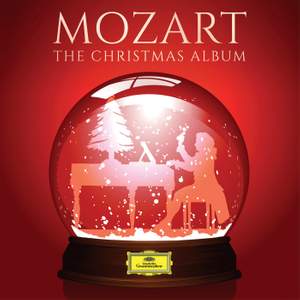 Mozart - The Christmas Album
Barbara Bonney (soprano), Christoph Eschenbach (piano), Arleen Auger (soprano), Karl Richter (organ), Stephen Gadd (bass), Catherine Wyn-Rogers (contralto), Jamie MacDougall (tenor), Gidon Kremer (violin), Vladimir Horowitz (piano), Rita Streich (soprano), Maria João Pires (piano), Augustin Dumay...
Contents
 Excerpt,  Mozart: Vesperae solennes de confessore in C, K339
Barbara Bonney (soprano)
The English Concert Choir, The English Concert
Trevor Pinnock
Recorded: 1993-09-06
Recording Venue: Henry Wood Hall, London
5. Laudate Dominum omnes gentes (Ps. 116 / 117)
 Excerpt,  Mozart: German Dances (3), K605
Orpheus Chamber Orchestra
Recorded: 1989-12-20
Recording Venue: The Performing Arts Center, Theatre C, Purchase
No. 3 in C Major, Trio "Die Schlittenfahrt"
Mozart: Variations (12) on 'Ah, vous dirai-je, Maman' in C major, K265
Christoph Eschenbach (piano)
Recorded: 1964-07
Recording Venue: Beethovensaal, Hannover
 Excerpt,  Mozart: Mass in C minor, K427 'Great'
Arleen Auger (soprano), Franz Beyer (work arranger)
Symphonie-Orchester des Bayerischen Rundfunks
Leonard Bernstein
Recorded: 1990-04-06
Recording Venue: Stiftsbasilika, Waldsassen
Mozart: Fantasia in F minor for a mechanical organ, K608
Karl Richter (organ)
Recorded: 1964-01-06
Recording Venue: Herkules Saal, Munich
Allegro - Andante - Allegro
 Excerpt,  Mozart: Mass in C major, K317 'Coronation Mass'
Barbara Bonney (soprano), Jamie MacDougall (tenor), Stephen Gadd (bass (vocal)), Catherine Wyn-Rogers (contralto)
The English Concert, The English Concert Choir
Trevor Pinnock
Recorded: 1993-09-06
Recording Venue: Henry Wood Hall, London
Wolfgang Amadeus Mozart, Robert Levin: Violin Concerto No. 3 in G Major, K. 216
Gidon Kremer (violin), Robert Levin (cadenzor)
Wiener Philharmoniker
Nikolaus Harnoncourt
Recorded: 1984-12-10
Recording Venue: Grosser Saal, Musikverein, Wien
2. Adagio (Cadenza: Robert Levin)
Mozart: Rondo in D major, K485
Vladimir Horowitz (piano)
Recorded: 1986-03-06
Recording Venue: RCA Studios, New York City
Flies: Wiegenlied (Previously Attributed To Mozart)
Rita Streich (soprano), Friedrich Meyer (work arranger)
Members of the Bavarian Radio Orchestra
Kurt Gaebel
Recorded: 1964-07-11
Recording Venue: Antoniussaal, Regensburg
Schlafe, mein Prinzchen, schlaf ein
 Excerpt,  Mozart: Symphony No. 36 in C major, K425 'Linz'
Wiener Philharmoniker
Leonard Bernstein
Recorded: 1984-10-09
Recording Venue: Grosser Saal, Musikverein, Wien
 Excerpt,  Mozart: Exsultate, jubilate, K165
Barbara Bonney (soprano)
The English Concert
Trevor Pinnock
Recorded: 1993-09-06
Recording Venue: Henry Wood Hall, London
Mozart, L: Divertimento in F major 'Eine musikalische Schlittenfahrt'
Ensemble Eduard Melkus
Eduard Melkus
Recorded: 1976-02-05
Recording Venue: Mozart Saal, Konzerthaus, Vienna (Wien)
 Excerpt,  Mozart: Violin Sonata No. 26 in B flat major, K378
Maria João Pires (piano), Augustin Dumay (violin)
Recorded: 1991-05-08
Recording Venue: Beethovensaal, Hannover
II. Andantino sostenuto e cantabile
Mozart: Ave verum corpus, K618
Wolfgang Seeliger (chorus master)
Symphonie-Orchester des Bayerischen Rundfunks, Chor des Bayerischen Rundfunks
Leonard Bernstein
Recorded: 1990-04-06
Recording Venue: Stiftsbasilika, Waldsassen