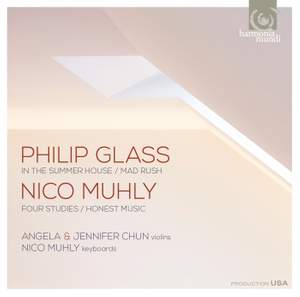 Offer

,

 Philip Glass: In the Summer House, Mad Rush
and Nico Muhly: Four Studies, Honest Music
Angela Chun (violin), Jennifer Chun (violin), Nico Muhly (piano)
uhly's silvery, luminous Four Studies were written for Angela and Jennifer Chun, and are a highlight of their sensitively played minimalist duo-violin disc.

— More…
CD
Original price
($16.25)
Reduced price
$12.25
Contents
Glass, P: In the Summer House
I. In the Summer House. II. My One and Only Hope. III. Gertrude's Pradise.
IV. Mr. Solares' Picnic Lunch. V. [-]
VI. Molly Is a Dreamer. VII. Enter Vivian. VIII. The Beach / Lionel & Molly.
XI. Vivian's Death [conclusion]. XII. Gertrude Leaves Summer House
XIV. The Lobster Bowl. XV. Back to Sad Things. XVI. I Knew You Would Come Back [excerpt]. XI. Vivian's Death [beginning].
XVII. When I was a Little Girl