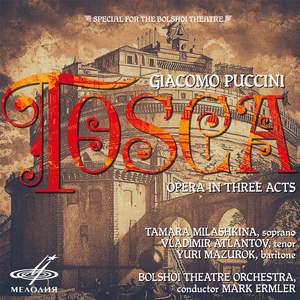 Offer

,

 Puccini: Tosca
Tamara Milashkina (Floria Tosca), Vladimir Atlantov (Mario Cavaradossi), Yuri Mazurok (Baron Scarpia), Valeri Yaroslavtsev (Cesare Angelotti), Vitali Nartov (Sacristan), Andrei Sokolov (Spoletta), Vladimir Filippov (Sciarrone), Мikhail Shkaptsov ((A Jailer), Alexander Pavlov ((A Shepherd boy)
Choir...
Milashkina's Slavic vowels won't suit everyone, but she and Atlantov make an ardent pair, with Mazurok a snarling Scarpia in this characterful production.

—
Contents
Tamara Milashkina, Andrei Sokolov, Alexander Pavlov, Mikhail Shkaptsov, Valery Yaroslavtsev, Vitali Nartov, Vladimir Atlantov, Vladimir Filippov, Yuri Mazurok
USSR Bolshoi Theatre Orchestra, USSR Bolshoi Theatre Choir
Mark Ermler
Show 19 remaining tracks for Puccini: Tosca
"Mario! Mario! Mario! Son qui!"
13:52
"Sommo giubilo, Eccellenza!"
1:28
"Un tal baccano in chiesa!"
4:00
"Mario?! Mario? Il pittor Cavaradossi?"
7:04
"Tre sbirri, una carrozza"
4:47
"O galantuomo, come andò la caccia?"
1:34
"Quanto? Quanto? Il prezzo!"
4:35
"Vissi d'arte, vissi d'amore"
3:38
"Vedi, le man giunte io stendo a te!"
10:00
"Mario Cavaradossi? A voi"
4:07
"Ah! Franchigia a Floria Tosca"
10:39
Hide 19 tracks for Puccini: Tosca