US Airmail Charges: As a knock-on effect of COVID-19 airfreight prices around the world have soared. Reluctantly, we have had to pass on some of this increase in our standard airmail prices. We'll bring them down again as soon as we can!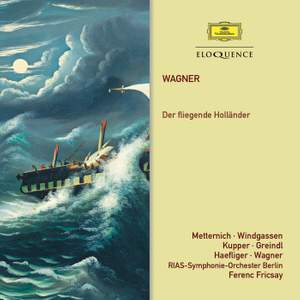 Wagner: Der fliegende Holländer
Josef Metternich (Der Holländer), Annelies Kupper (Senta), Wolfgang Windgassen (Erik), Josef Greindl (Daland), Ernst Haefliger (Der Steuermann) & Sieglinde Wagner (Mary)
RIAS Kammerchor & RIAS-Symphonie-Orchester, Ferenc Fricsay
By a fair margin [this set] remains my favourite, with Fricsay at his most electrifying and the team of men quite unbeatable. It is good to have Metternich as the Dutchman, a singer curiously...

— More…
Contents
Wagner: Der fliegende Holländer
2:04:58
Ernst Haefliger (tenor), Josef Metternich (baritone), Annelies Kupper (soprano), Josef Greindl (bass), Sieglinde Wagner (mezzo-soprano), Wolfgang Windgassen (tenor)
Deutsches Symphonie-Orchester Berlin, RIAS Kammerchor
Ferenc Fricsay
Recorded: 1952-10-24
Recording Venue: Jesus-Christus-Kirche, Berlin
1. Introduktion. "Hojoje! Hojoje! Hallojo! Ho!"
1:28
"Kein Zweifel! Sieben Meilen fort!"
3:30
"Mit Gewitter und Sturm aus fernem Meer"
4:26
2. Rezitativ und Arie. "Die Frist ist um"
10:17
3. Szene, Duett und Chor. "He! Holla! Steuermann"
3:48
"Durch Sturm und bösen Wind verschlagen"
11:03
"Mit Gewitter und Sturm aus fernem Meer"
1:34
4. Szene, Lied und Ballade. "Summ und brumm, du gutes Rädchen"
8:00
"Johohoe! Traft ihr das Schiff im Meere an"
6:44
Hilf, Himmel! Senta! Senta! (Mädchen, Mary, Erik, Senta)
2:09
5. Duett. "Bleib, Senta! Bleib nur einen Augenblick!"
0:38
"Mein Herz, voll Treue bis zum Sterben"
5:18
Fühlst du den Schmerz (Senta, Erik)
2:01
"Auf hohem Felsen lag ich träumend"
4:07
6. Finale. "Mein Kind, du siehst mich auf der Schwelle"
1:43
"Mögst du, mein Kind, den fremden Mann willkommen heißen"
6:00
"Wie aus der Ferne längst vergang'ner Zeiten"
5:26
"Wirst du des Vaters Wahl nicht schelten?"
6:55
"Verzeiht! Mein Volk hält draußen sich nicht mehr"
1:56
7. Szene und Chor. "Steuermann, laß die Wacht!"
9:17
"Johohoe! Johohoe! Hoe! Hoe!"
2:26
8. Finale. "Was mußt ich hören"
2:18
"Willst jenen Tag du nicht dich mehr entsinnen" (Kavatine)
2:44
Erfahre das Geschick, vor dem ich dich bewahr' (Der Holländer, Erik, Senta, Daland, Mary, Chor)
5:01