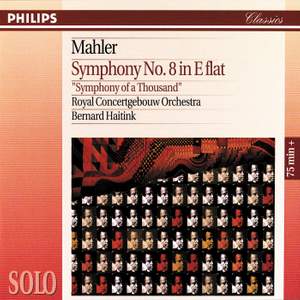 Mahler: Symphony No. 8 in E flat major 'Symphony of a Thousand'
Ileana Cotrubas (soprano), Heather Harper (soprano), Hanneke Van Bork (soprano), Birgit Finnilä (contralto), Marianne Dieleman (contralto), William Cochran (tenor), Hermann Prey (bass-baritone), Hans Sotin (bass), Jo Juda (violin), Kees de Wijs (organ)
Royal Concertgebouw Orchestra, Amsterdam...
Contents
Mahler: Symphony No. 8 in E flat major 'Symphony of a Thousand'
Ileana Cotrubas (Soprano), Heather Harper (Soprano), Hanneke Van Bork (Soprano), Birgit Finnilä (Contralto), Marianne Dieleman (Contralto), William Cochran (Tenor), Hermann Prey (Bass-Baritone), Hans Sotin (Bass), Jo Juda (Violin), Kees de Wijs (Organ)
Amsterdam Toonkunst Choir, De Stem Des Volks, Collegium Musicum Amstelodamense, Royal Concertgebouw Orchestra, Children's Choirs of St. Willibrord's and St.Pius X Churches
Bernard Haitink
Recorded: 1971-09-15
Recording Venue: Concertgebouw, Grote Zaal, Amsterdam
"Infirma nostri corporis"
"Infirma nostri corporis"
"Gloria sit Patri Domino"
Più mosso (Allegro moderato)
"Waldung, sie schwankt heran"
"Wie Felsenabgrund mir zu Füßen"
"Gerettet ist das edle Glied"
"Jene Rosen, aus den Händen"
"Uns bleibt ein Erdenrest"
"Bei der Liebe, die den Fussen"
"Er überwächst uns schon"
"Blicket auf zum Retterblick"