UPDATE: Royal Mail have now resumed shipments on ALL International services but delays should be expected, please choose FEDEX if your order is urgent.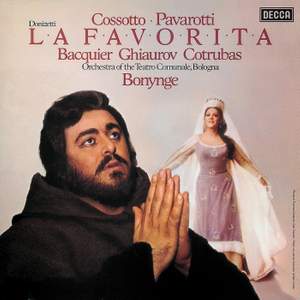 Donizetti: La Favorita
Fiorenza Cossotto (Leonora), Luciano Pavarotti (Fernando), Gabriel Bacquier (Alfonso), Nicolai Ghiaurov (Baldassare), Piero De Palma (Don Gasparo), Ileana Cotrubas (Ines)
Orchestra e Coro del Teatro Comunale di Bologna, Richard Bonynge
For me, this recording represents the absolute epitome of bel canto singing, with Pavarotti spinning endless golden tone as Fernand and Fiorenza Cossotto showcasing that indomitable chest-voice...

— More…
Contents
Ileana Cotrubas (soprano), Fiorenza Cossotto (soprano), Gabriel Bacquier (baritone), Nicolai Ghiaurov (bass), Piero de Palma (tenor), Luciano Pavarotti (tenor), Bruno De Franceschi (singer)
Orchestra del Teatro Comunale di Bologna, Coro del Teatro Comunale di Bologna
Richard Bonynge
Recorded: 1974-08
Recording Venue: Teatro Comunale, Bologna
"Quella preghiera non odi tu?"
"Parla, figlio..... Una vergine, un'angel di Dio"
"E fia ver? Son desto o vaneggio?"
"Bei raggi lucenti, bell'aure beate!"
"Messaggera gentile, ninfa discreta"
"E l'uom che la desia, è il re?"
Preludio ... "Giardini d'Alcazar"
"Vieni, amor! A'piedi tuoi"
"De'nemici tuoi lo sdegno"
"Tutta la mia corte per la festa previen!"
"In questo suol a lusingar tua cura"
"Ah, Sire! ... Che mai fu?"
"A lei son presso alfine!"
"Leonora, ei del suo cor la brama"
"A tanto amor, Leonora, il tuo risponda"
"O mio Fernando, della terra il trono"
"Scritto in cielo è il mio dolor"
"Ines! ... Sposo a te, Fernando?"
"Di già vella cappella?""
"O viltade, obbrobrio insano!"
"Per me del ciel si dispiega il favor"
"Sire, io ti deggio ... O ciel! Di quell'alma"
"Orsù, Fernando, ascolta!"
Preludio ... "Fratelli! Fratelli, andiam"
"Figlio diletto, ascolta!"
"Spirto gentil, de'sogni miei"
"Fernando, Fernando! Dove mai lo troverò?"
"Fuggiam da queste soglie!"
"Pietoso al par del Nume"
"Addio! Fuggir mi lascia!"
"Vieni, ah vien! Io m'abbandono alla gioia"
Donizetti: La Favorita - Act 2
Orchestra del Teatro Comunale di Bologna
Richard Bonynge
Recorded: 1974-08
Recording Venue: Teatro Comunale, Bologna