UPDATE: Royal Mail have now resumed shipments on their TRACKED, TRACKED & SIGNED and SIGNED services but delays should be expected, please choose these services if available to you or FEDEX if your order is urgent.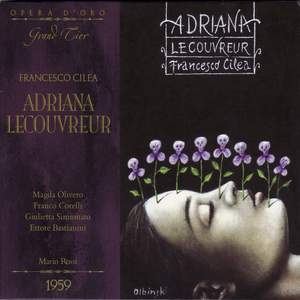 Cilea: Adriana Lecouvreur
Magda Olivero, Franco Corelli, Giulietta Simoniato, Ettore Bastianini
Mario Rossi
Contents
Francesco Cilea, Renato Ercolani, Rosanna Zerbini, Anna Di Stasio, Augusto Frati, Mariano Caruso, Franco Corelli, Giulietta Simionata, Ettore Bastianini, Magda Olivero, Antonio Cassinelli
Mario Rossi
Act One: Michonnet, della biacca!
Act One: Il Principe di Bouillon e l'Abate di Chazeuil!
Act One: Del sultano Amuratte m'arrendo all'imper
Act One: Io son l'mile ancella
Act One: Eccoci soli alfin!
Act One: Or dunque, Abate?
Act One: Ecco il monologo
Act One: Maledetta politica!
Act Two: Acerba voluttà? O vagabonda stella d'Oriente
Act Two: Principessa? Finalmente!
Act Two: L'anima ho stanca
Act Two: Vi cogliam, Conte, sul fatto!
Act Two: Eccovi alfin, Divina
Act Two: Ma dunque, è vero?
Act Two: Ebbene?? Che granchio!
Act Two: E sia! Non risponde.
Act Three: Eh, via! Così non va.
Act Three: Io son confusa
Act Three: Non fatevi pregar
Act Three: Dopo Marte, Tersicore
Act Three: È quella donna al certo!
Act Three: "Giusto Cielo! Che feci in tal giorno?"
Act Three: So ch'ella dorme
Act Three: Amico mio!? Figliuloa!
Act Four: Lieta sorpresa!
Act Four: Un cofanetto? Scusate
Act Four: E sia!? Poveri fiori
Act Four: Adriana!? Non odi?
Act Four: No, la mia fronte
Act Four: Che? Tu tremi? trascolori
Act Four: Scostatevi, profani!