US Airmail Charges: As a knock-on effect of COVID-19 airfreight prices around the world have soared. Reluctantly, we have had to pass on some of this increase in our standard airmail prices. We'll bring them down again as soon as we can!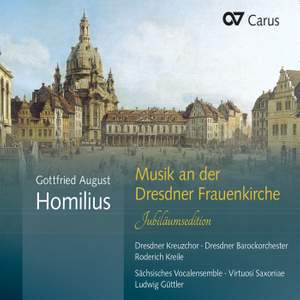 Homilius: Music at the Frauenkirche Dresden (Anniversary Edition)
Vasiljka Jezovsek (soprano), Hubert Nettinger (tenor), Anne Buter (alto), Dorothea Wagner (soprano), Ludwig Guttler (trumpet), Friedrich Kircheis (organ), Clemens Volkmar (tenor), Andreas Lorenz (oboe), Annette Markert (alto), Marcus Ullmann (tenor), Christiane Kohl (soprano), Tobias Berndt (bass),...
Contents
Homilius: Der Herr ist Gott, der uns erleuchtet, HoWV II.91
23:19
Vasiljka Jezovsek (soprano), Hubert Nettinger (tenor), Anne Buter (alto)
Dresdner Kreuzchor, Dresdner Barockorchester
Roderich Kreile
Der Herr ist Gott, der uns erleuchtet (Chorus)
4:08
Recitative. Erwürgtes Gotteslamm (Soprano)
1:57
Aria: Dir sei Ehr und Preis gegeben (Soprano)
6:01
Recitative. Du heilig Volk, das Christi Namen führet (Tenor)
1:06
Danket dem Herrn, denn er ist freundlich (Chorus)
2:15
Aria: Du bist mein Gott, dich will ich dankend ehren (Tenor)
6:08
Recitative: O Geist der Gnaden, dessen Kraft (Alto)
0:35
Chorale: Richt unser ganzes Leben (Chorus)
1:09
Homilius: Nun freut euch, lieben Christen gmein
0:42
Dorothea Wagner (soprano)
Nun freut euch, lieben Christen g'mein (Chorus)
0:42
Homilius: Chorale Prelude, HoWV X.26
2:49
Ludwig Güttler (trumpet), Friedrich Kircheis (organ)
Homilius: Vater unser im Himmelreich
0:46
Chorale. Vater unser im Himmelreich
0:46
Homilius: Chorale Prelude, HoWV X.21
3:42
Andreas Lorenz (oboe), Friedrich Kircheis (organ)
Homilius: Die Freude der Hirten über die Geburt Jesu. Weihnachtsoratorium, HoWV I.1
41:40
Annette Markert (alto), Marcus Ullmann (tenor), Christiane Kohl (soprano), Tobias Berndt (bass)
Virtuosi Saxoniae, Saxon Vocal Ensemble
Ludwig Güttler
Gott, dich rühmen unsre Lieder (Chorus)
7:03
Recitative. Nein, Hirten, nein (Soprano, Alto, Tenor)
2:22
Aria. Fürchtet euch nicht (Bass)
2:32
Aria. Die Engel frohlocken (Tenor)
9:53
Hier schlummert er (Tenor)
0:26
Schlaf, Sohn aus Davids Stamm (Chorus)
7:32
Accompagnato. Wie göttlich lächelt er (Soprano)
0:58
Aria. Kind, ich liebe dich (Soprano)
7:09
Wie wallt mein Herz (Tenor)
0:50
Heil dem besten Hirten (Chorus)
2:55
Homilius: Erwachet, ihr Christen, HoWV II.57
14:08
Clemens Volkmar (tenor), Barbara Christina Steude (soprano), Phillip Bromsel (bass)
Saxon Vocal Ensemble, Virtuosi Saxoniae
Ludwig Güttler
Erwachet, ihr Christen: Gott, der Vater, wohn uns bei (Chorus)
4:22
Recitative. Herr Zebaoth, du kennest ja die Deinen (Tenor)
1:39
Chorale. Jesus Christus, wohn uns bei (Chorus)
1:57
Recitative. Du starker Held aus Jacobs Stamm (Soprano)
1:31
Chorale. Heilger Geist, ach wohn uns bei (Chorus)
1:56
Recitative. O Geist der Wahrheit (Bass)
1:26
So stürmet, ihr Feinde (Chorus)
1:17
Homilius: Johannespassion (St. John Passion)
7:10
Dresdner Kreuzchor, Dresdner Barockorchester
Roderich Kreile
Johannespassion (St. John Passion): Part II: O Gottes Lamm
7:10
Homilius: Für deinen Thron tret ich hiermit
0:33
Chorale. Für deinen Thron tret ich hiermit
0:33
Homilius: Chorale Prelude, HoWV X.8
2:00
Ludwig Güttler (trumpet), Friedrich Kircheis (organ)
Homilius: Oboe Sonata, HoWV XI.1
6:26
Andreas Lorenz (oboe), Friedrich Kircheis (harpsichord), Friedwart-Christian Dittmann (cello)
Homilius: Was mein Gott will, das g'scheh allzeit
0:57
Homilius: Chorale Prelude, HoWV X.18
3:21
Ludwig Güttler (corno da caccia), Friedrich Kircheis (organ)
Homilius: Heilig ist unser Gott, der Herr Gott Zebaoth, HoWV II.99
18:34
Vasiljka Jezovsek (soprano), Anne Buter (alto), Hubert Nettinger (tenor)
Dresdner Kreuzchor, Dresdner Barockorchester
Roderich Kreile
Heilig ist unser Gott, der Herr Gott Zebaoth (Chorus)
3:02
Aria. Gott, groß ist deine Güte (Soprano)
3:06
Heilig ist Jesus Christ, der unser Bruder ist (Chorus)
2:34
Aria: Ich weiss, an wen ich glaube (Alto)
2:35
Heilig ist Gottes Geist, der Christen unterweist (Chorus)
2:31
Aria. Schaff du der Christen Tröster ein neues Herz in mir! (Tenor)
2:08
Dir sei, Dreieinigkeit, der Christen Dank geweiht (Chorus)
2:38
Homilius: Gott fähret auf mit Jauchzen, HoWV II.87
14:37
Vasiljka Jezovsek (soprano), Anne Buter (alto), Christian Hilz (bass)
Dresdner Kreuzchor, Dresdner Barockorchester
Roderich Kreile
Recitative. Nun ist das große Werk vollbracht (Soprano)
2:15
Aria. Gebückt verehren dich die Seraphinen (Alto)
7:43
Recitative. Beglücktes Volk, das Jesu Namen kennt (Basso)
1:05
Chorale. Nur dass ihr den Geist erhebt (Chorus)
1:01