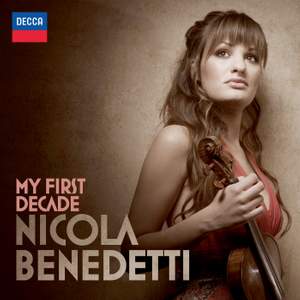 Nicola Benedetti: My First Decade
Nicola Benedetti (violin), Tamas Andras, Thomas Carroll, Ksenija Sidorova, Petr Limonov (piano), Alexander Sitkovetsky, Leonard Elschenbroich, Alexei Grynyuk
Scottish Chamber Orchestra, London Philharmonic Orchestra, Czech Philharmonic Orchestra, London Symphony Orchestra, Bournemouth Symphony...
Contents
Vivaldi: The Four Seasons: Summer III. Presto
Nicola Benedetti (violin), Christian Curnyn (director & harpsichord), Ruth Crouch (leader), Catherine Rimer (cello continuo), Thomas Dunford (theorbo), Jan Waterfield (chamber organ)
Scottish Chamber Orchestra
Recorded: 2010-06-02
Recording Venue: Usher Hall, Edinburgh
Vaughan Williams: The Lark Ascending
Nicola Benedetti (violin), Vesselin Gellev (leader)
London Philharmonic Orchestra
Andrew Litton
Recorded: 2007-06-21
Recording Venue: Henry Wood Hall, London
Brahms: Hungarian Dance No. 5 in G minor
Nicola Benedetti (violin), Tamas Andras (violin), Thomas Carroll (cello), Ksenija Sidorova (accordion), Petr Limonov (piano)
Recorded: 2013-06-04
Recording Venue: St. John's Smith Square, London
Nicola Benedetti (violin), Alexei Grynyuk (piano)
Recorded: 2009
Chopin: Nocturne No. 20 in C sharp minor, Op. post.
Nicola Benedetti (violin), Petr Limonov (piano)
Recorded: 2013-06-11
Recording Venue: All Saints Church, East Finchley, London
Tchaikovsky: Violin Concerto in D Major, Op. 35, TH. 59
Nicola Benedetti (violin)
Czech Philharmonic Orchestra
Jakub Hrůša
Recorded: 2010-02-01
Recording Venue: Dvorak Hall, Prague
Massenet: Meditation (from Thaïs)
Nicola Benedetti (violin)
London Symphony Orchestra
Daniel Harding
Recorded: 2005-01-06
Excerpt, Bruch: Violin Concerto No. 1 in G minor, Op. 26
Nicola Benedetti (violin)
Czech Philharmonic Orchestra
Jakub Hrůša
Recorded: 2010-02-01
Recording Venue: Dvorak Hall, Prague
Nicola Benedetti (violin), Tamas Andras (violin), Thomas Carroll (cello), Ksenija Sidorova (accordion), Petr Limonov (piano)
Recorded: 2013-06-04
Recording Venue: St. John's Smith Square, London
Hess, N: Main Theme (From "Ladies in Lavender")
Nicola Benedetti (violin)
Bournemouth Symphony Orchestra
Kirill Karabits
Recorded: 2012-06
Recording Venue: Guildhall, Southampton
Williams, John: Schindler's List: Theme
Nicola Benedetti (violin)
Bournemouth Symphony Orchestra
Kirill Karabits
Recorded: 2012-06
Recording Venue: Guildhall, Southampton
Nicola Benedetti (violin), Ksenija Sidorova (accordion), Alexander Sitkovetsky (violin), Leonard Elschenbroich (cello), Alexei Grynyuk (piano)
Recorded: 2012-06
Recording Venue: Guildhall, Southampton