US Airmail Charges: As a knock-on effect of COVID-19 airfreight prices around the world have soared. Reluctantly, we have had to pass on some of this increase in our standard airmail prices. We'll bring them down again as soon as we can!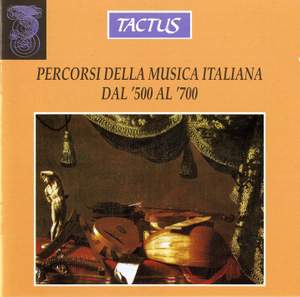 Offer

,

 Percorsi della musica italiana dal 500 al 700
Patrizia Vaccari (vocals), Alessandra Fiori (vocals), Angela Albanese (vocals), Rebecca Reese (vocals), Laura Alvini (harpsichord), Paolo Pollastri (oboe), Enrico Gatti (violin), Franco Angeleri (fortepiano), Sergio Vartolo (organ)
Ensemble Aurora, Consort Veneto, Ruggiero, Il, Cappella Artemisia,...
Contents
Palestrina: Vestiva i colli
3:26
Gabrieli, G: 3 Sacrae Symphoniaea
4:38
Sacrae symphoniae: Canzon in echo duodecimi toni a 10
4:38
Mainerio: Il Primo libro di Balli
2:09
Consort Veneto
Giovanni Toffano
Il primo libro de balli: Pass'e mezzo della Paganina e Saltarello
2:09
Frescobaldi: Toccata per Spinettina e Violino
4:05
Rossi, S: Il terzo libro de varie sonate, sinfonie, gagliarde, brandi e corrente, Op. 12
4:25
Ruggiero, Il
Emanuela Marcante
Il terzo libro de varie sonate, sinfonie, gagliarde, brandi e corrente, Op. 12: Sonata sopra l'aria di Ruggiero
4:25
Vizzana: Componimenti musicali de motetti concertati
2:45
Patrizia Vaccari (vocals), Alessandra Fiori (vocals), Angela Albanese (vocals), Rebecca Reese (vocals)
Cappella Artemisia
Candace Smith
Componimenti musicali de motetti concertati: O invictissima
2:45
Colonna, G P: Laudate Dominum a 8
4:33
Milan La Scala Chorus, Tölzer Knabenchor, San Petronio Cappella Musicale Chorus, San Petronio Cappella Musicale Orchestra
Sergio Vartolo
Laudate Dominum a 8: Sicut erat
4:33
Corelli: Sonata da camera a tre, Op. 4 No. 10 in G major
4:47
I. Preludio: Adagio - Allegro
1:38
III. Tempo di gavotta: Presto
1:48
Scarlatti, A: Toccata in G minor
4:13
Laura Alvini (harpsichord)
Toccata in G minor: Spiritoso
4:13
Perti: Cieli voi che ascondete
2:42
Vivaldi: Sonata in C minor RV 53
11:21
Paolo Pollastri (oboe)
Vivaldi Consort
Zipoli: Sonate d'intavolatura, Book I
4:15
Sonate d'intavolatura, Book I: Pastorale in C major
4:15
Hasse, J A: L'occasion delle mie pene
2:59
Boccherini: Sonata No. 1 in B flat major, Op. 5, G. 25
3:26
Enrico Gatti (violin), Franco Angeleri (fortepiano)
Sonata No. 1 in B flat major, Op. 5, G. 25: II. Adagio
3:26
Boccherini: Sonata No. 4 in D major, Op. 5, G. 28
4:43
Enrico Gatti (violin), Franco Angeleri (fortepiano)
Sonata No. 4 in D major, Op. 5, G. 28: III. Rondo: Tempo di minuetto
4:43
Salieri: Concertino in G major (version for oboe and strings)
2:06
Paolo Pollastri (oboe)
Quartetto Amati
Concertino in G major: IV. — (version for oboe and strings)
2:06
Salieri: Overture for string quartet, No. 2 in D major
3:57
String Quartet No. 2: Overture
3:57