UPDATE: Royal Mail have now resumed shipments on their TRACKED & SIGNED and SIGNED services but delays should be expected, please choose these services if available to you or FEDEX if your order is urgent.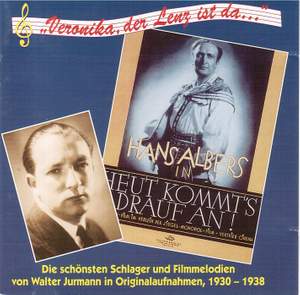 Schlager und Filmmelodien von Walter Jurmann, Vol. 1 (Recordings 1930-1938)
Walter Jurmann (vocals), Franz Volker (tenor), Austin Egen (vocals), Jan Kiepura (tenor), Wolfgang Schmidt (tenor), Willi Domgraf-Fassbaender (baritone), Josephine Baker (vocals), Richard Tauber (tenor), Kurt Muhlhardt (vocals), John Hendrik (vocals), Curt Bois (vocals), Marcel Wittrisch (tenor),...
Contents
Jurmann: Veronika, der Lenz ist da
Walter Jurmann (vocals)
Julian Fuhs Orchestra
Julian Fuhs
Recorded: 1930
Recording Venue: Berlin
Barnabas von Geczy Orchestra
Barnabas von Geczy
Recorded: 1932
Recording Venue: Berlin
Melodie der Liebe: Schade, dass die Liebe ein Marchen ist
Franz Volker (tenor)
Berlin Staatskapelle, members
Walter Schutze
Recorded: 1933
Recording Venue: Berlin
Jurmann: Hirsekorn greift ein
Austin Egen (vocals)
Emil Roosz Orchestra
Emil Roosz
Recorded: 1931
Recording Venue: Berlin
Hirsekorn greift ein: Ohne Worte lass uns scheiden
Jan Kiepura (tenor)
Odeon Kunstlerorchester
Frieder Weissmann
Recorded: 1933
Recording Venue: Berlin
Wolfgang Schmidt (tenor)
Bernhard Ette Orchestra
Bernhard Ette
Recorded: 1933
Recording Venue: Berlin
Abenteuer am Lido: Wie schon ist diese Welt
Jurmann: Ihre Majestat die Liebe
Walter Jurmann (vocals)
Alfred Beres Orchestra
Alfred Beres
Recorded: 1930
Recording Venue: Berlin
Ihre Majestat die Liebe: Ich denk' an Madi die ganze Nacht
Jurmann: Ich will dich Liebe lehren
Willi Domgraf-Fassbaender (baritone)
Marek Weber Orchestra
Marek Weber
Recorded: 1932
Recording Venue: Berlin
Ich will dich Liebe lehren: Tranen in der Geige
Jurmann: A Day at the Races
Josephine Baker (vocals)
Wal-Berg Orchestra
Wal-Berg
Recorded: 1937
Recording Venue: Paris
A Day at the Races: J'ai un message pour toi
Recorded: 1937
Recording Venue: Paris
Ihre Majestat die Liebe: Du bist nicht die erste
Richard Tauber (tenor)
Odeon Kunstlerorchester
Paul Dessau
Recorded: 1930
Recording Venue: Berlin
Melodie der Liebe: Wie gern mocht' ich dich verwohnen
Jurmann: Ein spanischer Tango und ein Madel wie du
Kurt Muhlhardt (vocals)
Bernhard Ette Orchestra
Bernhard Ette
Recorded: 1931
Recording Venue: Berlin
Jurmann: Die Augen der Liebe seh'n alles so schon
Dajos Bela Dance Orchestra
Dajos Bela
Recorded: 1930
Recording Venue: Berlin
Jurmann: Du bist in meinem Leben die erste Sensation
John Hendrik (vocals)
Marek Weber Tanzorchester
Marek Weber
Recorded: 1932
Recording Venue: Berlin
Jurmann: Reg mich nicht auf, Johanna
Curt Bois (vocals)
Studio orchestra
Studio conductor
Recorded: 1931
Recording Venue: Vienna
Marcel Wittrisch (tenor)
Recorded: 1932
Recording Venue: Berlin
Melodie der Liebe: Ein Lied aus meiner Heimat
Berlin State Opera Chorus, members, Berlin State Opera Orchestra, members
Eugen Wolff
Recorded: 1937
Recording Venue: Berlin
San Francisco: San Francisco Medley
Jurmann: Frauen brauchen immer einen Hausfreund
Walter Jurmann (vocals)
Theo Mackeben Orchestra
Theo Mackeben
Recorded: 1929
Recording Venue: Berlin
Jurmann: Heut' kommt's drauf an
Hans Albers (vocals)
Odeon Kunstlerorchester
Otto Dobrindt
Recorded: 1933
Recording Venue: Berlin
Heut' kommt's drauf an: Mein Gorilla hat 'ne Villa im Zoo
Herbert Ernst Groh (tenor)
Odeon Kunstlerorchester
Otto Dobrindt
Recorded: 1933
Recording Venue: Berlin
Abenteuer am Lido: Adieu, es ist zu schon, um wahr zu sein