UPDATE: Royal Mail have now resumed shipments on ALL International services but delays should be expected, please choose FEDEX if your order is urgent.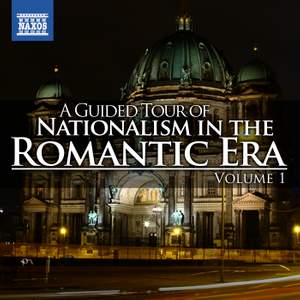 A Guided Tour of Nationalism in the Romantic Era, Vol. 1
Ernst Ottensamer (clarinet), Benjamin Frith (piano), Kalman Berkes (clarinet), Jeno Jando (piano), Alexander Paley (piano), Trine Wilsberg Lund (soprano), Bettina Ranch (alto), Min Woo Lim (tenor), Assaf Levitin (bass), Dominik Koniger (bass), Raimund Minarschik (tenor), Dorothea Craxton (soprano),...
Contents
New Zealand Symphony Orchestra
Antoni Wit
Recorded: 13-15 July 2006
Recording Venue: Wellington Town Hall, New Zealand
Excerpt, Weber: Der Freischütz
New Zealand Symphony Orchestra
Antoni Wit
Recorded: 13-15 July 2006
Recording Venue: Wellington Town Hall, New Zealand
Der Freischutz, J. 277: Overture
Excerpt, Weber: Clarinet Concerto No. 1 in F minor, Op. 73
Ernst Ottensamer (clarinet)
Slovak State Philharmonic Orchestra, Košice
Johannes Wildner
Recorded: 19-21 February 1990
Recording Venue: House of Arts, Kosice
Weber: Clarinet Concertino in E flat major, Op. 26
Ernst Ottensamer (clarinet)
Slovak State Philharmonic Orchestra, Košice
Johannes Wildner
Recorded: 19-21 February 1990
Recording Venue: House of Arts, Kosice
Weber: Konzertstück in F minor, Op. 79 for piano & orchestra
Benjamin Frith (piano)
RTE Sinfonietta
Proinnsias O Duinn
Recorded: 26-27 September 1994
Recording Venue: National Concert Hall, Dublin
Konzertstuck in F Minor, J. 282, Op. 79
Excerpt, Weber: Clarinet Quintet in B flat major, Op. 34, J182
Kalman Berkes (clarinet), Jenö Jandó (piano)
Auer String Quartet
Recorded: 23-27 August 1994
Recording Venue: Scottish Church, Budapest
II. Fantasia: Adagio ma non troppo
Weber: Grand Duo Concertant for clarinet and piano, Op. 48
Kalman Berkes (clarinet), Jenö Jandó (piano)
Auer String Quartet
Recorded: 23-27 August 1994
Recording Venue: Scottish Church, Budapest
Grand Duo Concertant in E-Flat Major, Op. 48, J. 204: I. Allegro con fuoco
Excerpt, Weber: Piano Sonata No. 1 in C major, Op. 24
Alexander Paley (piano)
Recorded: 10-15 January 1994
Recording Venue: Fisher Hall, Santa Rosa, California
Piano Sonata No. 1 in C Major, Op. 24, J. 138: I. Allegro
Weber: Invitation to the Dance, Op. 65
Alexander Paley (piano)
Recorded: 10-15 January 1994
Recording Venue: Fisher Hall, Santa Rosa, California
Excerpt, Weber: Piano Sonata No. 2 in A flat major, Op. 39
Alexander Paley (piano)
Recorded: 10-15 January 1994
Recording Venue: Fisher Hall, Santa Rosa, California
Piano Sonata No. 2 in A-Flat Major, Op. 39, J. 199: IV. Rondo: Moderato e molto grazioso
Excerpt, Weber: Piano Sonata No. 3 in D minor, Op.49
Weber: Piano Sonata No. 4 in E minor, Op. 70
Alexander Paley (piano)
Recorded: 10-15 January 1994
Recording Venue: Fisher Hall, Santa Rosa, California
III. Andante quasi Allegretto, consolante
IV. Finale: La Tarantella - Prestissimo
Weber: Rondo Brillante in E flat major (La Gaité), J.252 (Op. 62)
Alexander Paley (piano)
Recorded: 10-15 January 1994
Recording Venue: Fisher Hall, Santa Rosa, California
Rondo brillante, "La gaite", Op. 62 (J. 252)
Schubert: Rosamunde, D797
Slovak Philharmonic Orchestra
Michael Halász
Recorded: 4-5 june 1988
Recording Venue: Moyzes Hall, Bratislava
Rosamunde, D. 797: Ballet Music No. 2
Schubert: Die Verschworenen (Der häusliche Krieg), D787: Overture
Prague Sinfonia
Christian Benda
Recorded: 10-12 November, 2006
Recording Venue: Arco Diva-Domovina Prague, Czech Republic
Excerpt, Schubert: Mass No. 2 in G major, D167
Immortal Bach Ensemble, Leipzig Chamber Orchestra
Morten Schuldt-Jensen
Recorded: 10-12 September 2007
Recording Venue: Paul-Gerhardtkirche, Leipzig, Germany
Mass No. 2 in G Major, D. 167: Credo
Schubert: Mass No. 3 in B flat Major, D324
Trine Wilsberg Lund (soprano), Bettina Ranch (alto), Min Woo Lim (tenor), Assaf Levitin (bass)
Immortal Bach Ensemble, Leipzig Chamber Orchestra
Morten Schuldt-Jensen
Recorded: 14-15 August 2009
Recording Venue: Paul-Gerhardt-Kirche, Leipzig, Germany
Mass No. 3 in B-Flat Major, Op. 141, D. 324: Benedictus
Excerpt, Schubert: Deutsche Messe, D872
Immortal Bach Ensemble, Leipzig Chamber Orchestra
Morten Schuldt-Jensen
Recorded: 10-12 September 2007
Recording Venue: Paul-Gerhardtkirche, Leipzig, Germany
Deutsche Messe, D. 872: Zum Sanctus: Sehr langsam
Excerpt, Schubert: Mass No. 5 in A flat major, D678
Trine Wilsberg Lund (soprano), Bettina Ranch (alto), Min Woo Lim (tenor), Dominik Koniger (bass)
Immortal Bach Ensemble, Leipzig Chamber Orchestra
Morten Schuldt-Jensen
Recorded: 12-13 August 2009
Recording Venue: Paul-Gerhardt-Kirche, Leipzig, Germany
Mass No. 5 in A-Flat Major, D. 678: Kyrie
Excerpt, Schubert: Mass No. 6 in E flat major, D950
Dorothea Craxton (soprano), Cornelia Rosenthal (alto), Raimund Minarschik (tenor)
Immortal Bach Ensemble, Leipzig Chamber Orchestra
Morten Schuldt-Jensen
Recorded: 22, 24 August 2006
Recording Venue: Grosser Saal, Gewandhaus, Leipzig
Benedictus: Benedictus qui venit
Agnus Dei: Agnus Dei, qui tolis peccata mundi
Excerpt, Schubert: Symphony No. 5 in B flat major, D485
Slovak Philharmonic Orchestra
Michael Halász
Recorded: 4-5 June 1988
Recording Venue: Moyzes Hall, Bratislava
Symphony No. 5 in B-Flat Major, D. 485: I. Allegro
Excerpt, Schubert: Symphony No. 6 in C major, D589
Budapest Failoni Chamber Orchestra
Michael Halász
Symphony No. 6 in C Major, D. 589: II. Andante
Excerpt, Schubert: Symphony No. 8 in B minor, D759 'Unfinished'
Slovak Philharmonic Orchestra
Michael Halász
Recorded: 4-5 June 1988
Recording Venue: Moyzes Hall, Bratislava
Symphony No. 8 in B Minor, D. 759, "Unfinished": I. Allegro moderato
Excerpt, Schubert: Symphony No. 9 in C major, D944 'The Great'
Budapest Failoni Chamber Orchestra
Michael Halász
Recorded: March 1994
Recording Venue: Italian Institute in Budapest
Symphony No. 9 in C Major, D. 944, "Great": I. Andante - Allegro ma non troppo
Schubert: Overture in B flat major, D470
Prague Sinfonia
Christian Benda
Recorded: 10-11 November 2006
Recording Venue: Arco Diva-Domovina Prague
Excerpt, Schubert: String Quartet No. 10 in E flat major, D87
Kodály Quartet
Recorded: 4-7 May 1994
Recording Venue: Unitarian Church, Budapest
String Quartet No. 10 in E-Flat Major, D. 87: I. Allegro moderato
Schubert: String Quartet No. 12 in C minor (fragment), D703 'Quartettsatz'
Kodály Quartet
Recorded: 8-11 October 1991
Recording Venue: Unitarian Church, Budapest
String Quartet No. 12 in C Minor, D. 703, "Quartettsatz": I. Allegro assai
Excerpt, Schubert: String Quartet No. 13 in A minor, D804 'Rosamunde'
Kodály Quartet
Recorded: 4-7 May 1994
Recording Venue: Unitarian Church, Budapest
String Quartet No. 13 in A Minor, D. 804: II. Andante
Excerpt, Schubert: String Quartet No. 14 in D minor, D810 'Death and the Maiden'
Kodály Quartet
Recorded: 8-11 October 1991
Recording Venue: Unitarian Church, Budapest
String Quartet No. 14 in D Minor, D. 810, "Death and the Maiden": I. Allegro
Excerpt, Schubert: String Quartet No. 15 in G Major, D887
String Quartet No. 15 in G Major, D. 887, Op. 161: IV. Allegro assai
Excerpt, Schubert: Piano Quintet in A major, D667 'The Trout'
Istvan Toth (double bass), Jenö Jandó (piano)
Kodály Quartet
Recorded: 2-4 December 1991
Recording Venue: Unitarian Church, Budapest
IV. Thema with Variations: Andante
V. Finale: Allegro giusto
Excerpt, Schubert: String Quintet in C major, D956
Villa Musica Ensemble
Recorded: 5-8 February 1990
Recording Venue: Tonstudio van Geest, Heidelberg
String Quintet in C Major, Op. 163, D. 956: II. Adagio
Excerpt, Schubert: Piano Trio No. 1 in B flat major, D898
Stuttgart Piano Trio
Recorded: May 1988
Recording Venue: Tonstudio van Geest, Heidelberg
Piano Trio in B-Flat Major, D. 898: I. Allegro moderato
Excerpt, Schubert: Piano Trio No. 2 in E flat major, D929
Stuttgart Piano Trio
Recorded: 5-7 May, 1988
Recording Venue: Tonstudio van Geest, Heidelberg
Piano Trio in E-Flat Major, D. 929: II. Andante con moto
Excerpt, Schubert: Sonata in A minor 'Arpeggione', D821
Maria Kliegel (cello), Kristin Merscher (piano)
Recorded: 14-15 December 1991
Recording Venue: Clara Wieck Auditorium, Heidelberg
Arpeggione Sonata in A Minor, D. 821: I. Allegro moderato