US Airmail Charges: As a knock-on effect of COVID-19 airfreight prices around the world have soared. Reluctantly, we have had to pass on some of this increase in our standard airmail prices. We'll bring them down again as soon as we can!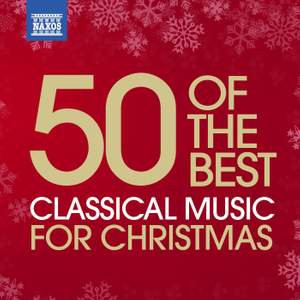 50 of the Best: Classical Music for Christmas
Robert Stringer (treble), William Goldring (treble), Simon Wall (tenor), Christopher de la Hoyde (alto), Reuben Thomas (bass), Anna Holbling (violin), Raymond Johnston (organ), Alexander Wells (piano), Skaila Kanga (harp), John Evanson (piano), Martin Ford (organ), Ann Hoyt (soprano), Julia Doyle...
Contents
Gauntlett: Once in Royal David's city
3:22
Robert Stringer (treble)
Worcester Cathedral Choir
Donald Hunt
Jehan Tabourot: Ding! dong! merrily on high (arr. A. Pitts)
1:38
Tonus Peregrinus
Antony Pitts
Recorded: 28 and 29 July 2003
Recording Venue: Church of St. Jude-on-the-Hill, London
Ding! dong! merrily on high (arr. A. Pitts for choir)
1:38
 Excerpt,  Bach, J S: Christmas Oratorio, BWV248
7:17
Hungarian Radio Chorus, Budapest Failoni Chamber Orchestra
Geza Oberfrank
Christmas Oratorio, BWV 248, Part I: Jauchzet, frohlocket
7:17
Scholars Baroque Ensemble
Recorded: 6-9 July 1992
Recording Venue: Rosslyn Hill Chapel, London
Part I: For unto a child is born (Chorus)
4:03
Part I: Glory to God in the highest (Chorus)
1:54
Coleridge-Taylor: The Forest of Wild Thyme, Op. 74: Christmas Overture (arr. S. Baynes)
5:53
BBC Concert Orchestra
Barry Wordsworth
The Forest of Wild Thyme, Op. 74: Christmas Overture (arr. S. Baynes for orchestra)
5:53
Britten: A Hymn to the Virgin
3:08
Christopher de la Hoyde (alto), William Goldring (treble), Reuben Thomas (bass), Simon Wall (tenor)
Choir of St John's College Cambridge
Christopher Robinson
Tewkesbury Abbey Choir
Andrew Sackett
Gabriel's message (arr. D. Willcocks for choir)
2:45
 Excerpt,  Corelli: Concerto grosso Op. 6 No. 8 in G minor 'fatto per la notte di Natale'
4:20
Anna Holbling (violin)
Cappella Istropolitana
Jaroslav Krček
Recorded: January - June 1990
Recording Venue: Moyzes Hall of Slovak Philharmonic, Bratislava
Concerto Grosso in G Minor, Op. 6, No. 8, "Christmas Concerto": VI. Pastorale ad libitum: Largo
4:20
 Excerpt,  Locatelli: Concerto Grosso in F minor, Op. 1 No. 8, 'Christmas'
3:58
Cappella Istropolitana
Jaroslav Krček
Recorded: January-March 1989 and June-July 1991
Recording Venue: Moyzes Hall of Slovak Philharmonic, Bratislava
Concerto Grosso in F Minor, Op. 1, No. 8, "Christmas": V. Pastorale
3:58
trad.: God Rest Ye Merry, Gentlemen
3:27
Tewkesbury Abbey Choir
Andrew Sackett
God rest ye merry, gentlemen (arr. D. Willcocks for choir)
3:27
Raymond Johnston (organ)
Worcester Cathedral Choir
Donald Hunt
Britten: A Ceremony of Carols, Op. 28
1:28
Skaila Kanga (harp)
New London Children's Choir
Ronald Corp
Recorded: 17-18 September 1994
Recording Venue: All Hallows, Gospel Oak, London
A Ceremony of Carols, Op. 28: This Little Babe
1:28
 Excerpt,  Poulenc: Quatre motets pour le temps de Noël
2:10
Elora Festival Singers
Noel Edison
4 Motets pour le temps de Noel, FP 152: No. 4. Hodie Christus natus est
2:10
Britten: Corpus Christi Carol
2:28
John Evanson (piano)
Finchley Children's Music Group
Grace Rossiter
Recorded: 07 - 08 April 2004
Recording Venue: Chapel of St. George's VA School, Harpenden, Herts
Martin Ford (organ)
Vasari Singers
Jeremy Backhouse
Recorded: 10-12 February 2012
Recording Venue: Tonbridge School Chapel, Tonbridge, Kent, UK
Cantique de Noel (O Holy Night) (arr. J.E. West for choir)
5:37
Blossom Street
Hilary Campbell
Recorded: 25-27 March 2011
Recording Venue: St Sepulchre-Without-Newgate, Holborn, London, UK
Campkin: Sleep, Holy Babe
4:07
Blossom Street
Hilary Campbell
Recorded: 25-27 March 2011
Recording Venue: St Sepulchre-Without-Newgate, Holborn, London, UK
Holst: Lullay my liking, H129, Op. 34 No. 2
3:43
Finchley Children's Music Group
Grace Rossiter
Recorded: 07 - 08 April 2004
Recording Venue: Chapel of St. George's VA School, Harpenden, Herts
Lauridsen: O magnum mysterium
5:47
Elora Festival Singers
Noel Edison
Recorded: 25-28 January 2006
Recording Venue: St. John's Church, Elora, Ontario, Canada
Stille Nacht (Silent Night) (arr. H. Miessner for choir)
3:17
Kirkpatrick: Away in a Manger
2:27
Ann Hoyt (soprano)
Trinity Church Choir, New York
Recorded: February 9-11, 18-28, 23-25, 2001
Recording Venue: Trinity Church, Wall Street, New York
Away in a Manger (arr. J. Rutter for voice and choir)
2:27
 Excerpt,  Tchaikovsky: The Nutcracker Suite, Op. 71a
1:48
Slovak Philharmonic Orchestra
Michael Halász
The Nutcracker Suite, Op. 71a: III. Dance of the Sugar Plum Fairies
1:48
 Excerpt,  Tchaikovsky: Sleeping Beauty, Op. 66
4:32
Slovak Radio Symphony Orchestra
Ondrej Lenárd
Recorded: 13-20 October 1987
Recording Venue: Concert Hall of Czechoslovak Radio, Bratislava
Sleeping Beauty, Act I: Valse
4:32
Finzi: In terra pax, Op. 39
16:10
Julia Doyle (soprano), Roderick Williams (baritone), Mark Williams (celesta)
City of London Choir, Bournemouth Symphony Orchestra
Hilary Davan Wetton
Recorded: 12 July 2009
Recording Venue: Concert Hall, The Lighthouse, Poole, Dorset
Berlioz: L'Enfance du Christ, Op. 25 - L'Adieu des bergers
5:25
Studio organist (organ)
Tewkesbury Abbey Choir
Andrew Sackett
Trinity Church Choir, New York
Recorded: February 9-11, 18-28, 23-25, 2001
Recording Venue: Trinity Church, Wall Street, New York
Cornelius: Weihnachtslieder (6), Op. 8: Drei Kön'ge wandern aus Morgenland
2:41
Richard Lippold (bass-baritone)
Trinity Church Choir, New York
Owen Burdick
Recorded: February 9-11, 18-28, 23-25, 2001
Recording Venue: Trinity Church, Wall Street, New York
trad.: The First Nowell (arr. D. Willcocks for choir)
5:02
Tewkesbury Abbey Choir
Andrew Sackett
Recorded: 1 and 7 February 1994
Recording Venue: Tewkesbury Abbey
Holst: In the Bleak Mid-winter (Cranham)
0:05
Robert Stringer (treble), Raymond Johnston (organ)
Worcester Cathedral Choir
Donald Hunt
Martin Ford (organ)
Vasari Singers
Jeremy Backhouse
Recorded: 10-12 February 2012
Recording Venue: Tonbridge School Chapel, Tonbridge, Kent, UK
Roderick Williams (baritone)
City of London Choir
Hilary Davan Wetton
Recorded: 14-15 July 2009
Recording Venue: St. Paul's Girls' School, Hammersmith, London
Anderson, Leroy: Sleigh Ride
2:42
Gothenburg Musicians
Jerker Johansson
Recorded: September - October 2003
Recording Venue: Hemsjö kyrka och Artisten, Göteborg, Sweden
Vaughan Williams: Fantasia on Christmas Carols
11:47
Stephen Gadd (baritone)
Guildford Choral Society, Royal Philharmonic Orchestra
Hilary Davan Wetton
Recorded: 13-14 January 2007
Recording Venue: Cadogan Hall, London, United Kingdom
 Excerpt,  Prokofiev: Lieutenant Kijé Suite, Op. 60
3:00
Czecho-Slovak State Philharmonic Orchestra
Andrew Mogrelia
Lieutenant Kije Suite, Op. 60: IV. Troika
3:00
Poston: Jesus Christ the Apple Tree
3:44
Elora Festival Singers
Noel Edison
trad.: I wonder as I wander (arr. J. Rutter)
3:00
Ann Hoyt (soprano), Stephen Sands (tenor)
Trinity Church Choir, New York
Owen Burdick
Recorded: February 9-11, 18-28, 23-25, 2001
Recording Venue: Trinity Church, Wall Street, New York
I Wonder as I Wander (arr. J. Rutter for voice and choir)
3:00
Raymond Johnston (organ)
Worcester Cathedral Choir
Donald Hunt
trad.: I saw 3 ships (arr. J. Rutter)
1:41
Trinity Church Choir, New York
Recorded: February 9-11, 18-28, 23-25, 2001
Recording Venue: Trinity Church, Wall Street, New York
I saw 3 ships (arr. J. Rutter for choir)
1:41
anon.: Es ist ein' Ros' entsprungen
2:50
German Boys Choir
Recorded: August and September 1988
Recording Venue: Kosice
C. J. Sharp: The holly and the ivy
2:40
Tonus Peregrinus
Antony Pitts
Recorded: 28 and 29 July 2003
Recording Venue: Church of St. Jude-on-the-Hill, London
The holly and the ivy (arr. A. Pitts for choir)
2:40
Gardner, John: Tomorrow shall be my dancing day
1:55
Mark Williams (piano), Ben Glassberg (tambourine)
City of London Choir
Hilary Davan Wetton
Recorded: 14-15 July 2009
Recording Venue: St. Paul's Girls' School, Hammersmith, London
Mark Williams (organ)
City of London Choir
Hilary Davan Wetton
Recorded: 14-15 July 2009
Recording Venue: St. Paul's Girls' School, Hammersmith, London
Vaughan Williams: Folksongs of the 4 Seasons
2:27
City of London Choir, Bournemouth Symphony Orchestra
Hilary Davan Wetton
Recorded: 12 July 2009
Recording Venue: Concert Hall, The Lighthouse, Poole, Dorset
Folksongs of the 4 Seasons: Winter: Wassail song
2:27
Tavener: God is With Us (A Christmas Proclamation)
5:28
Choir of St John's College Cambridge
Christopher Robinson
Recorded: 11 - 13 July 2000
Recording Venue: St John's College Chapel, Cambridge
 Excerpt,  Hely-Hutchinson: A Carol Symphony
4:11
City of Prague Philharmonic Orchestra
Gavin Sutherland
Recorded: 12th - 13th May, 2002
Recording Venue: Smecky Studio, Prague
A Carol Symphony: Allegro energico
4:11
Anderson, Leroy: A Christmas Festival
9:06
BBC Concert Orchestra
Leonard Slatkin
Recorded: 3 September 2007
Recording Venue: Colosseum, Town Hall, Watford, UK
Rutter: What sweeter music
4:15
Mark Williams (organ)
City of London Choir
Hilary Davan Wetton
Recorded: 14-15 July 2009
Recording Venue: St. Paul's Girls' School, Hammersmith, London
Wade, J F: O come, all ye faithful
4:01
Trinity Church Choir, New York
Recorded: February 9-11, 18-28, 23-25, 2001
Recording Venue: Trinity Church, Wall Street, New York
Adeste fideles (O Come All Ye Faithful) (arr. P. Breiner for choir)
4:01
Mendelssohn: Hark! the herald angels sing
2:57
Raymond Johnston (organ)
Worcester Cathedral Choir
Donald Hunt