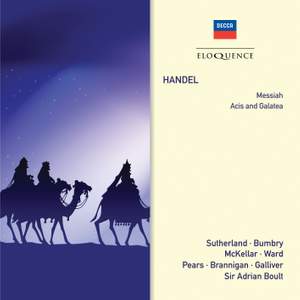 Offer

,

 Handel: Acis and Galatea & Messiah
Joan Sutherland (soprano), Grace Bumbry (alto), Kenneth McKellar (tenor) & David Ward (bass), soprano (Galatea), Sir Peter Pears, tenor (Acis), bass (Polyphemus) & David Galliver, tenor (Damon), Owen Brannigan (bass), Kenneth McKellar (tenor)
London Symphony Chorus & London Symphony Orchestra,...
The cast selected for this recording is excellent, and each of the four principal singers possesses a telling dramatic style as well as a fine command of phrasing and timbre. Joan Sutherland...

— More…
4 CDs
Original price
($19.50)
Reduced price
$18.00
Contents
Recitative. Comfort Ye My People
Aria. Every Valley Shall Be Exalted
Chorus. And The Glory Of The Lord
Recitative. Thus Saith The Lord
Aria. But Who May Abide The Day Of His Coming?
Chorus. And He Shall Purify
Recitative. Behold, A Virgin Shall Conceive
Recitative. For, Behold, A Darkness Shall Cover the Earth
Aria. The People That Walked In Darkness
Chorus. For Unto Us A Child Is Born
Recitative. There Were Shepherds Abiding In The Field
Aria. Rejoice Greatly, O Daughter Of Zion
Recitative. Then Shall The Eyes… He shall feed
Chorus. His Yoke Is Easy, And His Burthen Is Light
Chorus. Behold The Lamb Of God
Chorus. Surely He Hath Borne Our Griefs
Chorus. And With His Stripes We Are Healed
Chorus. All We Like Sheep Have Gone Astray
Recitative & Chorus: All they that see him.. He trusted in God
Recitative. Thy Rebuke Hath Broken His Heart
Arioso. Behold, And See If There Be Any Sorrow
Recitative and Air: He was cut off..But thour didst not leave
Chorus. Lift Up Your Heads, O Ye Gates
Recitative & Chorus: unto which of the angels...Let all the angels of God
Air: Thou art gone up on high
Chorus: The Lord gave the word
Aria. How Beautiful Are The Feet Of Them
Chorus. Their Sound Is Gone Out Into All Lands
Aria. Why Do The Nations So Furiously Rage
Chorus. Let Us Break Their Bonds Asunder
Recitative & Air: He that dwelleth in heaven..Thou shalt break them
Aria. I Know That My Redeemer Liveth
Chorus. Since By Man Came Death
Recitative & Air: Behold, I Tell You A Mystery… The trumpet shall sound
Recitiative, Duet & Chorus: Then shall be brought…
Aria. If God Be For Us, Who Can Be Against Us?
Chorus. Worthy Is The Lamb
BONUS: Recitative & Arioso: Thy rebuke hath broken…Behold and see (alternative version)
Chorus: Oh, the pleasure of the plains!
Accompagnato: Ye verdant plains & woody mountains (Galatea)
Air: Hush, ye pretty warbling choir! (Galatea)
Air: Where shall I seek the charming fair? (Acis)
Recitative: Stay, shepherd, stay! (Damon)
Air: Shepherd, what art thou pursuing? (Damon)
Recitative: Lo, here my love (Acis)
Air: Love in her eyes sits playing (Acis)
Recitative: Oh didst thou know the pains of absent love (Galatea)
Air: As when the dove laments her love (Galatea)
Duet: Happy, happy we! (Acis & Galatea)
Accompagnato: I rage - I melt - I burn! (Polyphemus)
Air: O ruddier than the cherry (Polyphemus)
Recitative: Whither, fairest, art thou running (Polyphemus, Galatea)
Air: Cease to beauty to be suing (Polyphemus)
Would you gain the tender creature (Coridon)
Recitative: His hideous love provokes my rage (Acis)
Air: Love sounds th' alarm
Air: Consider, fond shepherd
Recitative: Cease, oh cease, thou gentle youth
Trio: The flocks shall leave the mountains (Galatea, Acis, Polyphemus)
Accompagnato: Help, Galatea! Help, ye parent gods! (Acis)
Chorus: Mourn, all ye muses
Solo & Chorus: Must I Acis still bemoan (Galatea)
Recitative: 'Tis done! Thus I exert my pow'r divine (Galatea)
Air: Heart, the seat of soft delight (Galatea)
Chorus: Galatea, dry thy tears
BONUS: Air: O ruddier than the cherry (Polyphemus) (alternative version)