UPDATE: Royal Mail have now resumed shipments on ALL International services but delays should be expected, please choose FEDEX if your order is urgent.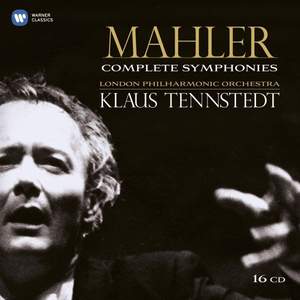 Klaus Tennstedt conducts Mahler Symphonies
Symphony No. 2: Edith Mathis (soprano), Doris Soffel (mezzo), Symphony No. 3: Ortrun Wenkel (alto), Symphony No. 4: Lucia Popp (soprano), Symphony No. 8: Elizabeth Connell (Magna Peccatrix), Edith Wiens (Una Poenitentium), Felicity Lott (Mater Gloriosa), Trudeliese Schmidt (Mulier Samaritana), Nadine...
Tennstedt's Mahler is of the old school; no "Mahler lite" here...His tempi are indeed often slow but by no means necessarily the slowest in comparison with other successful versions and his sense...

— More…
Contents
Symphony No. 2: Edith Mathis (soprano), Doris Soffel (mezzo); Symphony No. 3: Ortrun Wenkel (alto); Symphony No. 4: Lucia Popp (soprano); Symphony No. 8: Elizabeth Connell (Magna Peccatrix), Edith Wiens (Una Poenitentium), Felicity Lott (Mater Gloriosa), Trudeliese Schmidt (Mulier Samaritana), Nadine Denize (Maria Aegyptiaca), Richard Versalle (Doctor Marianus), Jorma Hynninen (Pater Ecstaticus), Hans Sotin (Pater Profundus)
London Philharmonic Choir, Tiffin School Boys' Choir, Southend Boys Chorus, London Philharmonic Orchestra
Klaus Tennstedt
Mahler: Das Lied von der Erde
Agnes Baltsa (mezzo), Klaus König (tenor)
London Philharmonic Orchestra
Klaus Tennstedt
Mahler: Symphony No. 10 in F sharp major - Adagio
London Philharmonic Orchestra
Klaus Tennstedt