US Airmail Charges: As a knock-on effect of COVID-19 airfreight prices around the world have soared. Reluctantly, we have had to pass on some of this increase in our standard airmail prices. We'll bring them down again as soon as we can!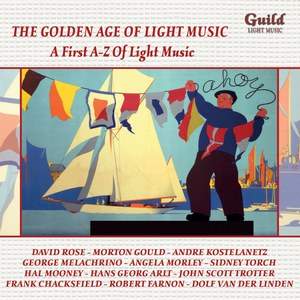 GALM 69: 1st A-Z of Light Music
Contents
Ellis, V: Alpine Pastures
Rose, D: The Christmas Tree
Fletcher, P: Vanity Fair: Overture
Duke, V: Ziegfeld Follies: What Is There To Say?
Jary: Durch dich wird diese Welt ist Schön
Trotter: Escape To Monaco
Cochrane, J: Flowing Stream
Brainin: It Wouldn't Be Love
Forrest: Baubles, Bangles and Beads (from Kismet)
Ewing, M: Moonlight on the Ganges
Armandola: Rose-Beetle Goes A-Wooing
Coles, J: Sunshine Express
Burke, Joe: Tiptoe Through the Tulips
Silvestri, Alfredo: Parole e Musica