Latest update: COVID-19 Shipping Delays. Presto is committed to the health and well-being of our staff. Our warehouse team are currently working hard to ensure your order is despatched as quickly as possible. Unfortunately you may experience slight delays as some deliveries are taking longer than usual. Thank you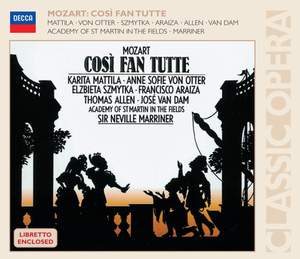 Mozart: Così fan tutte, K588
Karita Mattila (Fiordiligi), Anne Sofie von Otter (Dorabella), Thomas Allen (Guglielmo), Francisco Araiza (Ferrando), Elzbieta Szmytka (Despina), José van Dam (Don Alfonso)
Ambrosian Opera Chorus & Academy of St Martin in the Fields, Sir Neville Marriner
A strikingly light, fresh Così with a truly superb ensemble, idiomatic and characterful; the voices are large, but only Mattila sounds a little weighty.

—
Contents
 Excerpt,  Mozart: Così fan tutte, K588
4:33
Academy of St Martin in the Fields
Sir Neville Marriner
Recorded: 1989-07-24
Recording Venue: Walthamstow Assembly Hall/St. John's, Smith Square
Mozart: Così fan tutte, K.588 / Act 1
1:30:39
Karita Mattila (soprano), Francisco Araiza (tenor), Elzbieta Szmytka (soprano), Anne Sofie von Otter (contralto), José van Dam (bass), Thomas Allen (baritone)
Ambrosian Singers, Academy of St Martin in the Fields
Sir Neville Marriner
Recorded: 1989-07-24
Recording Venue: Walthamstow Assembly Hall/St. John's, Smith Square
"La mia Dorabella" - "Fuor la spada"
3:07
"E la fede delle femmine" - "Scioccherie di poeti!"
2:55
"Ah, guarda, sorella" - "Mi par che stamattina"
5:46
"Vorrei dir, e cor non ho" - "Stelle! Per carità, signor Alfonso"
1:43
"Sento, oh Dio, che questo piede" - "Non piangere, idol mio!"
5:58
"Al fato dan legge" - "La commedia è graziosa"
1:57
"Bella vita militar!" - "Non v'è più tempo"
2:19
"Di scrivermi ogni giorno" - "Bella vita militar!" - "Dove son?"
4:10
"Soave sia il vento" - "Non son cattivo" - "Che vita maledetta" - "Madame, ecco la vostra colazione"
5:36
"Ah, scostati!" - "Smanie implacabili" - "Signora Dorabella"
4:59
"In uomini, in soldati" - "Che silenzio!"
5:42
"Alla bella Despinetta" - "Che sussurro! Che strepito!"
7:00
"Temerari! Sortite!" - "Come scoglio!" - "Ah, non partite"
6:43
"E voi ridete?" - "Si può sapere un poco"
2:05
"Oh, la saria da ridere!"
2:27
"Ah, che tutta in un momento"
3:14
Mozart: Così fan tutte, K.588 / Act 2
1:35:08
Francisco Araiza (tenor), Elzbieta Szmytka (soprano), José van Dam (bass), Anne Sofie von Otter (contralto), Karita Mattila (soprano), Thomas Allen (baritone)
Academy of St Martin in the Fields, Ambrosian Singers
Sir Neville Marriner
Recorded: 1989-07-24
Recording Venue: Walthamstow Assembly Hall/St. John's, Smith Square
"Una donna a quindici anni" - "Sorella, cosa dici?"
5:20
"Prenderò quel brunettino" - "Ah, correte al giardino"
3:27
"Secondate, aurette amiche" - "Il tutto deponete"
4:40
"La mano a me date" - "Oh che bella giornata!"
5:38
"Ei parte... senti... ah no!"
1:35
"Per pietà, ben mio, perdona"
6:53
"Donne mie, la fate a tanti"
3:06
"In qual fiero" - "Tradito, schernito" - "Bravo, questa è costanza"
5:19
"Come tutto congiura" - "L'abito di Ferrando"
2:49
"Fra gli amplessi in pochi istanti"
6:27
"Tutti accusan le donne" - "Vittoria, padroncini!"
1:44
"Fate presto, o cari amici"
1:52
"Benedetti i doppi coniugi"
4:01
"E nel tuo, nel mio bicchiero"
2:15
"Miei signori, tutto è fatto"
3:26
"Ah, signor, son rea di morte"
6:03