UPDATE: Royal Mail have now resumed shipments on their TRACKED, TRACKED & SIGNED and SIGNED services but delays should be expected, please choose these services if available to you or FEDEX if your order is urgent.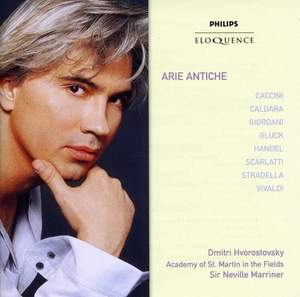 Arie Antiche (Antique Arias)
includes works by Carissimi, Giordani, Scarlatti, Vivaldi
Dmitri Hvorostovsky (baritone).
Academy of St. Martin-in-the-Fields, Sir Neville Marriner
Contents
Carissimi: Vittoria, mio core!
Dmitri Hvorostovsky (baritone).
Academy of St Martin in the Fields
Sir Neville Marriner
Vivaldi: Se il cor guerriero (from Tito Manlio)
Dmitri Hvorostovsky (baritone).
Academy of St Martin in the Fields
Sir Neville Marriner
Gluck: O del mio dolce ardor (from Paride ed Elena)
Dmitri Hvorostovsky (baritone).
Academy of St Martin in the Fields
Sir Neville Marriner
Giordani, G: Caro mio ben
Dmitri Hvorostovsky (baritone).
Academy of St Martin in the Fields
Sir Neville Marriner
Handel: Te Deum in D major 'Dettingen', HWV283: Dignare, Domine
Dmitri Hvorostovsky (baritone).
Academy of St Martin in the Fields
Sir Neville Marriner
Vivaldi: Orribile Lo Scempio (from Tito Manlio)
Dmitri Hvorostovsky (baritone).
Academy of St Martin in the Fields
Sir Neville Marriner
Dmitri Hvorostovsky (baritone).
Academy of St Martin in the Fields
Sir Neville Marriner
Gluck: Che faro' senza Euridice? (from Orfeo ed Euridice)
Dmitri Hvorostovsky (baritone).
Academy of St Martin in the Fields
Sir Neville Marriner
Handel: Frondi tenere e belle ... Ombra mai fù (from Serse)
Dmitri Hvorostovsky (baritone).
Academy of St Martin in the Fields
Sir Neville Marriner
Handel: Sorge infausta una procella (from Orlando)
Dmitri Hvorostovsky (baritone).
Academy of St Martin in the Fields
Sir Neville Marriner
Caldara: Come raggio di sol
Dmitri Hvorostovsky (baritone).
Academy of St Martin in the Fields
Sir Neville Marriner
Durante, F: Vergin, tutto amor preghiera
Dmitri Hvorostovsky (baritone).
Academy of St Martin in the Fields
Sir Neville Marriner
Handel: Brockes Passion HWV 48: Chi sprezzando
Dmitri Hvorostovsky (baritone).
Academy of St Martin in the Fields
Sir Neville Marriner
Dmitri Hvorostovsky (baritone).
Academy of St Martin in the Fields
Sir Neville Marriner
Durante, F: Danza fanciulla gentile
Dmitri Hvorostovsky (baritone).
Academy of St Martin in the Fields
Sir Neville Marriner
Caccini, G: Amarilli mia bella
Dmitri Hvorostovsky (baritone).
Academy of St Martin in the Fields
Sir Neville Marriner
Cesti: Si mantiene il mio amor
Dmitri Hvorostovsky (baritone).
Academy of St Martin in the Fields
Sir Neville Marriner
Stradella: Pieta, Signore
Dmitri Hvorostovsky (baritone).
Academy of St Martin in the Fields
Sir Neville Marriner