US Airmail Charges: As a knock-on effect of COVID-19 airfreight prices around the world have soared. Reluctantly, we have had to pass on some of this increase in our standard airmail prices. We'll bring them down again as soon as we can!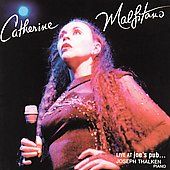 Offer

,

 Blue Moon Cat: Catherine Malfitano at Joe's Pub
Catherine Malfitano (soprano)
Contents
Weill, K: What good would the moon be?
Catherine Malfitano (soprano)
Arlen: St. Louis Woman: I had Myself a True Love
Catherine Malfitano (soprano)
Howard, B: Fly Me to the Moon
Catherine Malfitano (soprano)
Weill, K: Surabaya Johnny (from Happy End)
Catherine Malfitano (soprano)
Young, V: My Foolish Heart
Catherine Malfitano (soprano)
Catherine Malfitano (soprano)
Warren, H: Boulevard of Broken Dreams
Catherine Malfitano (soprano)
Weill, K: Pirate Jenny (from The Threepenny Opera)
Catherine Malfitano (soprano)
Bolcom: Song of Black Max
Catherine Malfitano (soprano)
Arlen: Blues in the Night
Catherine Malfitano (soprano)
Gershwin: Sam and Delilah
Catherine Malfitano (soprano)
Catherine Malfitano (soprano)
Arlen: I never has seen snow
Catherine Malfitano (soprano)
Catherine Malfitano (soprano)
Warren, H: The more I see you
Catherine Malfitano (soprano)
Catherine Malfitano (soprano)