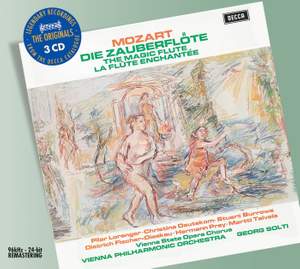 Mozart: Die Zauberflöte, K620
Martti Talvela (Sarastro), Stuart Burrows (Tamino), Cristina Deutekom (Königin der Nacht), Pilar Lorengar (Pamina), Renate Holm (Papagena), Hermann Prey (Papageno), Gerhard Stolze (Monostatos), Dietrich Fischer-Dieskau (Sprecher), René Kollo (1er Geharnischter), Hans Sotin (2er Geharnischter), Hanneke...
Solti's reading is tough, strong and brilliant...Among the men, Stuart Burrows is especially impressive, with stylish and rich-toned singing...and Hermann Prey rounds out the character of Papageno...

— More…
Contents
Mozart: Die Zauberflöte, K620
Cristina Deutekom (soprano), Stuart Burrows (tenor), René Kollo (tenor), Gerhard Stolze (tenor), Wolfgang Zimmer (speaker), Hermann Prey (bass-baritone), Renate Holm (soprano), Yvonne Minton (mezzo-soprano), Hanneke Van Bork (soprano), Hans Sotin (bass), Pilar Lorengar (soprano), Herbert Lackner (bass), Hetty Plumacher (contralto), Martti Talvela (bass), Kurt Equiluz (tenor)
Wiener Philharmoniker, Wiener Sängerknaben, Wiener Staatsoper
Sir Georg Solti
Recorded: 1969-10
Recording Venue: Sofiensaal, Vienna
"Zu Hilfe! Zu Hilfe!" - Dialog "Wo bin ich?"
"Der Vogelfänger bin ich ja...He da!"
Dies Bildnis ist bezaubernd schön...Rüste dich mit Mut
O zittre nicht...Ist's auch denn Wirklichlkeit
Du feines Täubchen - Dialog: Mutter! Mutter! Bin ich
"Bei Männern, welche Liebe fühlen"
"Zum Ziele führt dich diese Bahn"
"Die Weisheitslehre dieser Knaben"
"Wo willst du kühner Fremdling hin?"
"Wie stark ist nicht dein Zauberton"
"Schnelle Füße, rascher Mut"
"Es lebe Sarastro! Sarastro lebe!"
"Herr, ich bin zwar Verbrecherin"
Marsch der Priester...Ihr eingewuehten Diener
Eine schreckliche Nacht...He, Lichter her!
Alles fühlt der Liebe Freuden...Zurück!
Der Hölle Rache...Morden soll ich?
In diesen heil'gen Hallen...Tamino! - Pst!
Seid uns zum zweitenmal willkommen...Tamino, wollen
Ach, ich fühl's...Nichr wahr, Tamino
O Isis und Osiris...Prinz, dein Betragen
Soll ich dich, Teurer...Tamino! Willst du mich denn
Ein Mädchen oder Weibchen...Da bin ich schon
"Bald prangt, den Morgen zu verkünden"
"Bald prangt, den Morgen zu verkünden" - "Du also bist mein Bräutigam"
"Der, welcher wandelt diese Straße voll Beschwerden"
"Tamino mein, o welch ein Glück"
Marsch..Wir wandelten durch Feuergluten
"Pa-Pa-Pa-Pa-Pa-Pa-Papagena!"
Nur stille, stille, stille
"Die Strahlen der Sonne" - "Heil sei euch"