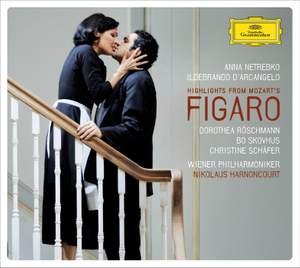 Mozart: Le nozze di Figaro, K492 (highlights)
Ildebrando d'Arcangelo (Figaro), Anna Netrebko (Susanna), Bo Skovhus (Count), Dorothea Röschmann (Countess), Christine Schäfer (Cherubino), Marie McLaughlin (Marcellina), Franz-Josef Selig (Bartolo), Patrick Henckens (Basilio), Oliver Ringelhahn (Curzio), Florian Boesch (Antonio), Eva Liebau (Barbarina)
Konzertvereinigung...
By and large the opera could hardly be more strongly cast. Anna Netrebko is a dreamy, vulnerable and beautifully sung Susanna, and Ildebrando D'Arcangelo's smouldering Figaro is a really macho...

— More…
Contents
Mozart: Le nozze di Figaro, K492 (highlights)
1:17:25
Dorothea Röschmann (soprano), Eva Liebau (soprano), Anna Netrebko (soprano), Franz-Josef Selig (bass), Christine Schäfer (soprano), Bo Skovhus (baritone), Ildebrando D'Arcangelo (bass), Bo Skovhus (bass), Florian Boesch (bass), Patrick Henckens (tenor), Marie McLaughlin (soprano)
Wiener Philharmoniker, Wiener Staatsoper
Nikolaus Harnoncourt
Recorded: 2006-07-20
Recording Venue: House for Mozart, Salzburg
"Cinque... dieci... venti..."
3:03
"Se vuol ballare, signor Contino"
2:44
"La vendetta, oh, la vendetta"
3:26
"Non so più cosa son, cosa faccio"
3:02
"Venite... inginocchiatevi..."
3:33
"Susanna, or via, sortite"
4:09
"Hai già vinta la causa" - "Vedrò mentr'io sospiro"
4:42
"E Susanna non vien!" - "Dove sono i bei momenti"
6:52
Cosa mi narri?...Che soave zeffiretto
3:50
Ecco la marcia - Andate amici
6:41
"L'ho perduta... me meschina!"
1:51
"Tutto è disposto" - "Aprite un po' quegli occhi"
4:36
"Giunse alfin il momento" - "Deh vieni non tardar"
4:30