UPDATE: Royal Mail have now resumed shipments on ALL International services but delays should be expected, please choose FEDEX if your order is urgent.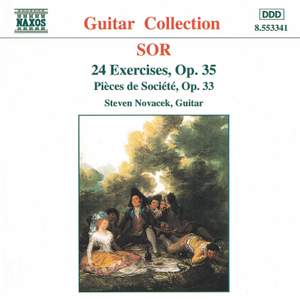 Sor: 3 Pieces de Societe & 24 Etudes for guitar
Steven Novacek ...his playing is forceful with wonderful attention to dynamics, nuances and rhythms.

—
Contents
Sor: 3 Salon Pieces, Op. 33, "Pieces de Societe"
Steven Novacek (guitar)
Recorded: 22-26 January 1995
Recording Venue: St. John Chrysostom Church, Newmarket, Canada
No. 1. Introduction and Allegretto
Sor: Etudes for guitar (24), Op. 35 'Exercises'
Steven Novacek (guitar)
Recorded: 22-26 January 1995
Recording Venue: St. John Chrysostom Church, Newmarket, Canada