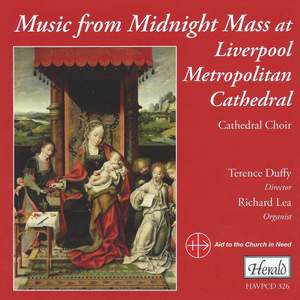 Music from Midnight Mass
The selection of music for this CD is based on that which might typically be used at Midnight Mass at the Metropolitan Cathedral in Liverpool and the tracks follows the normal order of the celebration of Mass.
Liverpool Metropolitan Cathedral Choir & Brass Ensemble, Terence Duffy
Contents
anon.: Improvisation on "The Darkest Midnight"
anon.: Dominus dixit ad me
Liverpool Metropolitan Cathedral Choir, Terence Duffy
Willcocks, D: Prelude on "Irby" (Once in Royal David's City)
Gauntlett: Once in Royal David's city
Richard Lea, Terence Duffy, Liverpool Metropolitan Cathedral Choir
Malcolm: Missa ad praesepe
Richard Lea, Terence Duffy, Liverpool Metropolitan Cathedral Choir
Philip Duffy: Today a Saviour Has Been Born to Us
Richard Lea, Terence Duffy, Liverpool Metropolitan Cathedral Choir
Liverpool Metropolitan Cathedral Choir, Terence Duffy
Liszt: Shepherds at the Manger
Poston: Jesus Christ the Apple Tree
Richard Lea, Terence Duffy, Liverpool Metropolitan Cathedral Choir
Malcolm: Missa ad Praesepe: III. Sanctus
Richard Lea, Terence Duffy, Liverpool Metropolitan Cathedral Choir
Darke: In the Bleak Midwinter
Richard Lea, Terence Duffy, Liverpool Metropolitan Cathedral Choir
Malcolm: Missa ad Praesepe: IV. Agnus Dei
Richard Lea, Terence Duffy, Liverpool Metropolitan Cathedral Choir
anon.: In splendoribus sanctorum
Liverpool Metropolitan Cathedral Choir, Terence Duffy
Praetorius, M: Choral & Organ "In Dulci Jubilo Psalm 109": I. Verse 1
Richard Lea, Terence Duffy, Liverpool Metropolitan Cathedral Choir
Friedrich Wilhelm Zachau: Choral & Organ "In Dulci Jubilo Psalm 109": II. Choral Prelude 1
Praetorius, M: Choral & Organ "In Dulci Jubilo Psalm 109": III. Verse 2
Richard Lea, Terence Duffy, Liverpool Metropolitan Cathedral Choir
Dupré: Choral & Organ "In Dulci Jubilo Psalm 109": IV. Choral Prelude 2
Praetorius, M: Choral & Organ "In Dulci Jubilo Psalm 109": V. Verse 3
Richard Lea, Terence Duffy, Liverpool Metropolitan Cathedral Choir
Bach, J M I: Choral & Organ 'In Dulci Jubilo Psalm 109': VI. Choral Prelude 3
Praetorius, M: Choral & Organ 'In Dulci Jubilo Psalm 109': VII. Verse 4
Richard Lea, Terence Duffy, Liverpool Metropolitan Cathedral Choir
Bach, J S: Choral & Organ 'In Dulci Jubilo Psalm 109': VIII. Choral Fantasia
Lauridsen: O magnum mysterium
Richard Lea, Terence Duffy, Liverpool Metropolitan Cathedral Choir
anon.: Hark! The herald angels sing
Richard Lea, Terence Duffy, Liverpool Metropolitan Cathedral Choir
Willcocks, D: Postlude on 'Hark, the herald-angels sing'